Learn what it takes to have a successful future from these company leaders in our new series.
Patent agent builds on old idea to revive creativity
As a chartered patent agent, Teruyuki Kamimura has seen many patent technologies created by Japanese manufacturers. But for several years, he has been concerned that Japanese firms are losing their competitive edge over foreign makers.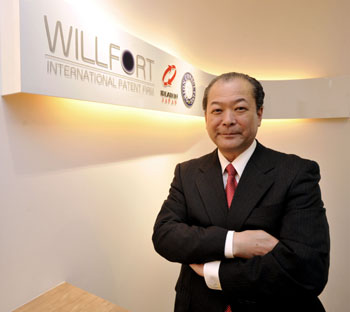 "I was wondering why and came to realize that it's because of the lack of creativity," said Kamimura, the 55-year-old CEO of Ideation Japan Inc.
Without high creativity, firms cannot make innovative products like Apple's iPhone; thus, "reinforcing creativity is really important for the Japanese industry's future," he said.
According to him, the ways that Japanese companies approach problems or proceed with projects are not efficient or effective, so innovation does not really occur.
This is why Kamimura expanded his business and founded Ideation Japan in 2010 with ¥3 million capital to help companies create more innovative technology through seminars and educational software based on a problem-solving method called Ideation-TRIZ or I-TRIZ.
I-TRIZ was developed based on "Theory of Inventive Problem Solving" or TRIZ invented in the former Soviet Union during the 1940s by Genrich Altshuller, who was working in the patent division of the then Soviet Navy.
Altshuller analyzed more than 200,000 patents and picked 40,000 well-designed ones to draft a basic theory to solve technology-related problems.
The study of TRIZ has been continued since by several other researchers, and by the early 1990s, the number of patents analyzed by TRIZ exceeded 2 million.
They created tools and patterns for problem-solving in miscellaneous situations based on how past patents were created by innovative people and how they came up with the products.
In the 1990s and early 2000s, many Japanese firms actually tried to use TRIZ, but Kamimura said it was not used effectively because the classical TRIZ is more of a theory and not user-friendly.
"It was hard for users to identify what patterns to use in what situations," he said.
But early in 2009, Kamimura was introduced to I-TRIZ, a version developed by U.S.-based Ideation International, by the Sanno Institute of Management. He thought it was much easier to use.
I-TRIZ was created to make TRIZ easier to use by anyone, and it has been employed by top companies like Motorola Inc. and Boeing Co.
For users seeking to solve problems or launch a new project, I-TRIZ basically divides the process into five steps and gives instructions to users step by step.
In the first and second steps, users identify problems or different situations. In that process, I-TRIZ gives the "system approach" tool for people to spot problems from various aspects.
For instance, if people are trying to improve the quality of a portable music player, people think of it as a "system" to analyze it in more objective ways.
Then, I-TRIZ gives several different angles to look at the system. Those angles include looking at parts inside the player, problems with its input and output, which in this case are usability of the hardware and environment to listen to the sound, and time-axis of how consumers actually use it.
Kamimura explained the importance of this process by bringing up Apple's iPod music player.
The iPod was innovative because users do not have to go through the hassle of buying CDs and then transferring music data, because they can easily download music online from iTunes. The concept behind such an invention can be found by looking at what people actually need to do before they actually start using such a music player.
Also, the iPod does not come with a lot of whistles and bells and its design enables users to intuitively use the product, and this idea can be identified by looking at the input angle.
When problems are identified and then improved in the first and second steps, the third step allows people a number of ideas to solve them by looking at past patterns of inventions.
In the fourth and fifth steps, users organize the ideas and draft solution concepts to observe feasibility and potential problems involving them.
"I-TRIZ helps people to look at a certain problem from a number of different angles and phases in order to effectively and efficiently solve the problem," and guide them to solutions from past invention patterns, said Kamimura.
Kamimura's company acts as an agent for Ideation International's I-TRIZ in Japan, and it is selling three types of I-TRIZ software priced at between ¥225,000 and ¥600,000, depending on the type of contract. It also provides seminars for companies.
However, his company does not receive financial support from Ideation International, he said.
While the main targets are manufacturers, I-TRIZ can be useful for other industries as well, he said.
Asked about profits, Kamimura said since Ideation Japan only started about a year ago, it is still small and is expanding efforts to make the product better known. The company, which currently has just four employees, aims to attain sales of ¥200 million within three years.
When a new hit product comes out, "sooner or later, other companies will release similar products. So you want to be the first one to get patents," he said, adding that I-TRIZ can strengthen companies' patent strategy.
From his experience as a patent agent, he said Japanese firms are not using patents strategically.
"In order to make good use of the patents, companies should get not only one type of patent to produce their new products, but also get patents of other possible technologies to realize it. Then it would be hard for other firms to come up with the same result," he said.
Because I-TRIZ looks at problems from several different angles, companies can identify a variety of methods that will solve them, meaning they can strategically plan to apply for key patents and get ahead of any competition, he said.
Also, since Kamimura runs a patent agency called Willfort International Patent Attorneys, Ideation Japan can help companies not only create new technologies but also protect them, he said.
This series has been prepared in collaboration with Enjin Co., which produces and operates a video website, kenja.tv, specializing in profiles of up-and-coming Japanese entrepreneurs.
---