Learn what it takes to have a successful future from these company leaders in our new series.
Tap pro, not clerk, if buying financial products
Staff writer
Toshinari Yamamoto, president and founder of Financial Management, a Tokyo-based financial consulting firm, believes an individual investor should always seek advice from a professional other than sales clerks when deciding to purchase financial products such as securities, insurances and real estate.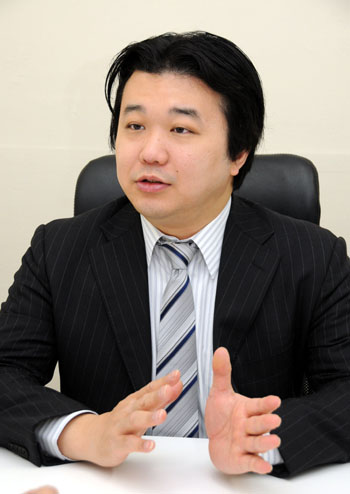 He is talking about situations when individual investors visit banks, securities companies and other money management companies.
"Bank clerks at customer service counters are professional sales people trying to sell their products to nonprofessional individuals," Yamamoto, 37, says. "My job is to bring professional help for individuals in such situations."
Yamamoto said he sometimes accompanies his customers to the service counters of banks or insurance companies.
"Workers at service counters know nothing about their rivals' products. When a customer says 'Is there a better one?,' they say 'Ours is the best,' though I know it's not," he said.
"They seem uncomfortable when I ask questions," he adds.
Yamamoto has worked for Sanwa Bank, predecessor of the Bank of Tokyo-Mitsubishi UFJ, which underwent multiple mergers, AIG Star Life Insurance Co. and a company selling insurance policies for several insurance companies, before establishing Financial Management in April 2010.
"At former companies, I was representing insurance companies. I wanted to provide consultation from neutral viewpoints so that I could really serve investors," says Yamamoto, who holds a financial planner license.
The company, which has only two full-time employees including Yamamoto, posted sales of ¥20 million in April to December last year.
The sales expanded to more than ¥100 million from January to May this year.
The sales come from consultation fees from individual and corporate customers as well as royalties from banks and other investment companies whose financial products he sold to his customers.
His specialty is insurance but he is also well versed in other financial products such as real estate, stock, bonds, foreign exchanges and commodity futures, he says. The specialty of his partner, Shuji Okura, is real estate with professional knowledge of other financial products, as well.
As an increasing number of retirees are opting to move overseas, where living costs are cheap, Yamamoto is considering starting a business targeting such people.
Social insurance system in Japan is on the verge of a collapse amid the rapidly graying society — which means the number of elderly is rising while the number of workers who pay pension premiums is on the decline.
Thus, it makes sense for elderly to want to move abroad, he says.
He will never recommend products to his customers if they do not understand their risks, he says. In particular, he does not generally recommend high-risk commodity futures.
However, he stressed his basic stance, which is to support customers' decisions instead of promising to make them a profit.
"We aim to be a butler type of a financial planner. We are a customers' butler, supporting them and helping to realize their investment goal," he says.
He is active in promoting businesses with individuals as he sometimes holds seminars and writes books and columns for magazines targeting individuals. But his company focuses more on corporate customers.
An ordinary financial planner mainly advises individuals, but about 90 percent of his company's sales come from corporate customers, he says.
His expertise in insurance is attracting corporate customers, urging him to come up with ways to cut their social welfare costs.
Yamamoto, who used to offer advice to expatriates who did not speak Japanese, also touched on the growing need for bilingual insurance salespersons.
Expatriates tend to have expensive belongings — a potential market for selling insurance covering houses, furniture, cars and motorcycles — but have very limited Japanese skills as many stay in Japan for only a few years.
While he may start such a business for Financial Management in the future, demand is not currently strong since many expatriates left Japan after the March 11 earthquake and tsunami, he says.
Yamamoto was born in Hiroshima and grew up in Tokyo. He lived in Los Angeles for five years until he was 10.
At an elementary school, he learned about stock investment and personal computers in the early 1980s, he said.
"I remember asking why I needed to study such things. The adults' response was 'You will be in trouble when you reach retirement age, unless you study this now,' " he said.
This series has been prepard in collaboration with Enjin Co., which produces and operates a video website, kenja.tv, specializing in profiles of up-and-coming Japanese entrepreneurs.
---