Learn what it takes to have a successful future from these company leaders in our new series.
Experience key to learning communication skills
Wide-ranging work experience at hotels, from bellboy to sales and management, helped Shinya Wada build his own company in communication coaching.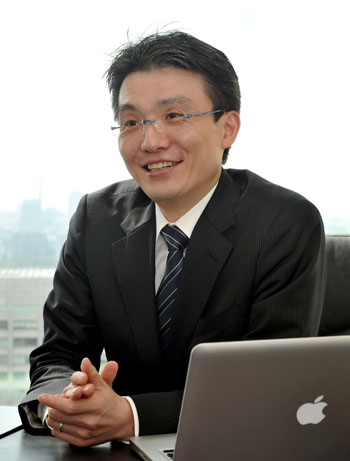 "I have done all kinds of hotel jobs. I know all about hospitality from many aspects," Wada, 41, said in his office in Tokyo.
Wada set up Wada Management Lab. Inc., which teaches communication skills to salespeople, call center receptionists, politicians and lawyers, in September 2010 after a long stint in the hotel industry, including 12 years for Palace Hotel Co., which operates several namesake hotels, including one next to the Imperial Palace.
He stressed the point that his company, with just five employees including part-timers, differs from other coaching companies in that it teaches the proper angles for bowing and other techniques that one normally learns by reading an etiquette book.
"There are many coaching companies teaching the minimum required business manner, but quite a few company managements wonder what to do" after their employees learn those manners, he said.
"I teach communication, not just manners. (My customers') business priority is to win a contract or get the next appointment," he said.
Thanks to word of mouth through his contacts in the hotel industry, sales are expanding steadily. He has made "a little" profit in the first six months and sales will probably reach ¥100 million in the first year ending August, he said.
He was recently hired to coach four men assisting a lady into a horse-drawn carriage in a TV commercial. He also appeared in a magazine on business manners for businessmen.
Male coaches in manners and communication are rare because cabin attendants and tea ceremony masters, who are usually female, typically become such coaches, he said, explaining one of reasons he gets media attention.
Clients include companies where he gives seminars to up to 20 people, or individuals he consults with on a one-to-one basis, he said.
Lawyers are among those who come to him for advice.
"Competition among lawyers is intensifying and it's difficult for lawyers to keep an appropriate distance with their clients," he said.
Wada Management Lab. began in March working as sales representatives for overseas hotels, the founder and president said.
After graduating from university, Wada began working for Palace Hotel in April 1992. He stayed for 12 years, including four in Guam. He then worked as a salesman for a sports club from 2004 to 2007 and for hotels in Guam from 2007 to December 2010, he said.
Working for Palace Hotel formed the foundation for his career, especially when he was in Guam. He learned angry customers have many different reactions, he said, adding that sympathizing with them eases their anger.
"Guam is often hit by typhoons and hotels sometimes lose electricity and water supply. Airports sometimes shut down for a while. But typhoon damage is normally not covered by insurance. Normal people get angry," he said. "Keeping them happy is a challenge."
One of the most challenging times was when he booked 500 rooms for the hotel with a capacity of 400 rooms in Guam.
He realized the mistake after the customers left Japan. He sincerely apologized to the customers at Guam airport and told them he arranged other hotels for them, but "some of them were real claimers and I had to kneel down as a gesture of sincere apology at the airport," he said.
Also supporting his current coaching work is his experience as a bellboy in the early years of his hotel career.
"I was there as a college graduate. There were "sempai" (senior colleagues) who entered Palace Hotel before me but are younger than me. Those people gave me a bully-style training experience and that's where college grads entering the hotel industry face the first challenge."
Also, working for a hotel, he was taught to always behave in a way that will not bring embarrassment upon him because people are watching all the time, he said.
He said he is constantly looking for someone adept at interacting with customers whenever he goes to low-priced restaurants and other places. He keeps an eye on them for months to monitor how they work after adjusting to their jobs in two or three months.
"They slack off after they get used to their jobs. I want people who have real hospitality spirit."
He shuns people working at top restaurants because such people "establish strange habits difficult to abandon and are thus difficult to educate," he said.
Within a few years, he envisions paying high salaries to coaches on a part-time basis, rather than hire full-time employees, he said.
"That's why I keep looking for good waiters and waitresses working for places like Veloce (low-priced cafe restaurant) and Gusto (low-priced family restaurant.) It's beneficial to each other if I hire someone from those people," he said.
This series has been prepared in collaboration with Enjin Co., which produces and operates a video website, kenja.tv, specializing in profiles of up-and-coming Japanese entrepreneurs.
---