Learn what it takes to have a successful future from these company leaders in our new series.
Down-to-earth approach aids plastics maker
Hiroshi Kodama, the president of Shinko Plastics Co., wants to make sure his employees are comfortable working for the plastics products wholesaler.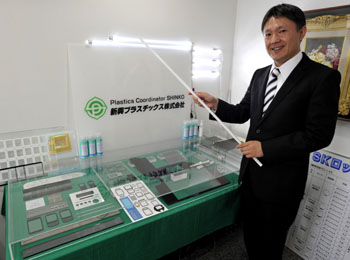 "There are many excellent company presidents. I don't think I have something that makes me unbeatable to them. I just don't want to be defeated in making efforts to treat my employees with care and let them enjoy working," Kodama, 45, said.
He also said he likes to be involved in sales and other nonmanagerial jobs because he thinks "it is important for decision makers to know the needs of jobs on site."
"I demand managers do the same, too, as it does not take competency to do," he added.
Kodama's down-to-earth policy helped the company, established in 1950, grow to post sales of ¥12.7 billion in the year ended in June last year. The number of employees grew to 112.
Shinko Plastics buys plastics products from about 1,200 chemical makers and other companies and sells them to some 3,000 companies, including construction material companies and machinery component makers, according to the company's website.
A Tokyo native who has lived most of his life in the capital, Kodama said he grew up playing baseball in elementary and high school. He didn't play in junior high to concentrate on his studies.
He attended Keio High School and Keio University and worked for an insurance company for about six years after graduation.
"The job at the insurance company was interesting, and I got to know how a company operates. But the company is large and no matter how important a job I do, there is always a next person and the company goes on without me," he said, explaining why he wanted to make a move to head a company.
He quit the insurance company and entered Shinko Plastics in the summer of 1993. It was his relatives' company, but he was gradually buying up shares and now owns more than a third of the company.
"An owner president should have responsibility and authority. So, I persuaded the relatives to sell me some of their shares," he said.
From the summer of 1993 to the summer of 1996, he worked at a warehouse in Osaka, managing inventory and handling customer inquiries.
"I did a lot of on-site jobs that ordinary employees are daily involved in for three years," he said, adding that the experience benefited him in understanding the company's operations.
In the next three years, he was a salesman in Tokyo's Ota and Shinagawa wards. His customers were mainly small local factories, he said.
In 1999, he was put in charge of sales in general, helping the company to expand overseas. He became the president in 2005.
Overseas markets accounted for 15 percent of company sales in the year ended June 2008. Most of the overseas sales, which have been falling due to the strong yen, are in China and South Korea, he said.
Asked what is a hit product, he said, "It's difficult to tell because we have many different products."
"A good thing about having many kinds of products is we can hedge a risk. A bad thing is it is difficult to remember what products we have."
Shinko Plastics' products are used in many applications including everything from billboards, parts of electronic products and interior design goods in convenience stores to fish tanks, he said.
In 2006 and 2007, Shinko Plastics sold components for about 60 million digital music players to a Chinese manufacturer. It also sells mobile phone components.
Lately, he said, the company is particularly focusing resources on sales of energy-saving lighting goods, so-called SK rods, as the government and Tokyo Electric Power Co. have called on the public to save energy due to expected shortages this summer.
An SK rod is a thin acrylic rod that glows with a light-emitting diode, or LED, light.
LED light sources can be attached to both ends of an SK rod, which ranges in size from 5 mm to 20 mm in diameter. They can be put on car parts and store shelves, or on a mobile phones to glow when a call or text message comes in.
He said his company often displays SK rods in exhibitions lately and they are very popular.
"I think plastic can help various goods to continue eternally to evolve into something new. Plastic is a material with which we can create something that matches the needs of society," he said.
This series has been prepared in collaboration with Enjin Co., which produces and operates a video website, kenja.tv, specializing in profiles of up-and-coming Japanese entrepreneurs.
---