Learn what it takes to have a successful future from these company leaders in our new series.
Map info provider charts wider course
Canvas Mapple Co., which provides road map information to portable car navigation systems, plans to take more business opportunities to utilize its content.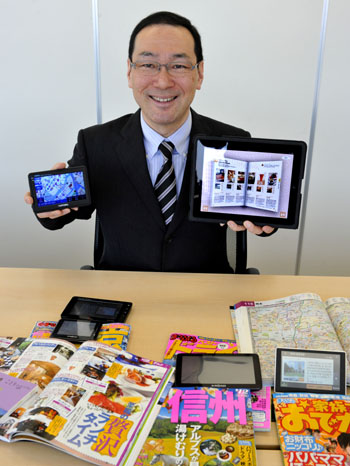 The data is provided by the country's biggest map publisher, Shobunsha Publications Inc., which is a parent firm of Canvas Mapple.
In recent months, the map content provider has launched a series of projects to widen a range of businesses to overseas portable car navigation markets as well as those for other types of wireless gadgets, such as cameras and smart phones.
And the company does not plan to limit its business to existing markets. "I'm aiming to introduce our content to any portable device," President and CEO Yukihiro Yamamoto, 48, said in a recent interview with The Japan Times.
In general, automotive navigation systems come in two types, portable and fixed. A portable system is wireless and can be carried anywhere. The fixed types are installed on a panel inside a vehicle. Both types display a digital map with a GPS (global positioning system) that finds one's location to show the best route to a destination.
Canvas Mapple has grown quickly since it was established in 2006. In the 1.2 million unit market for portable car navigation, the firm currently commands a share of 20 percent. If including fixed-type systems, the overall market has 4 million to 5 million units.
The strongest point of the company's road navigation software is the various content provided by Shobunsha, which has a more than 50-year history.
The publisher, known for the "Mapple" road map series, has a reputation for road map information and currently has an 85 percent share of the country's map market.
Shobunsha also issues magazines providing information about driving, hot springs, gourmet and other entertainment information as well as guidebooks for domestic and overseas tourism spots.
Besides ordinary maps, it also publishes unique maps. One is for drivers, highlighting areas often jammed with traffic and showing routes to avoid in the target areas.
Another unique map is for people who need to walk home when a big earthquake hits Tokyo and all public transportation stops, as happened on March 11.
The "Shinsaiji Kitaku Shien Map" ("Map to support one's return home at a time of big earthquakes") has been published for the past several years and shows major routes from central Tokyo to surrounding areas. The compact booklet is convenient because it marks locations of parks and benches where one can rest, toilets one can use and concrete-block walls and big signboards that could endanger pedestrians.
To take advantage of the abundant content owned by Shobunsha, Canvas Mapple has launched a series of projects.
The latest one is for the Chinese market with huge potential. Canvas Mapple launched a project on April 1 to tie up with a Chinese map maker and will start selling portable car navigation systems there by the end of March next year, Yamamoto said.
The Chinese portable car navigation market has grown rapidly, Yamamoto said. The market stands at 6 million units in the business year that ended in March, tripling the size of the previous year, according to Yamamoto.
On March 25, the company tied up with Olympus Corp. and launched a digital camera with a retail price of ¥42,800.
The camera is equipped with a GPS system and displays names of locations the user takes pictures of.
In the United States, a similar type of camera with overseas location data provided by Navteq went on sale in early March.
Canvas Mapple also started to sell in December an application that provides navigation data or tourism information for smart phones such as iPhones and iPads.
The company also is considering digitizing its "Kitaku Shien Map" amid strong demand for the map, Yamamoto said.
The company had originally aimed at ¥2 billion sales, following ¥1.2 billion sales for the business year that ended in March and ¥600 million sales for the previous business year. But quakes cloud the forecast, Yamamoto said.
Now, the company expects its sales to stand at around the same as the last business year that finished in March.
The hardest thing for Yamamoto was to hire enough engineers with experience to launch the project. Yamamoto met as many as 100 candidates who have expertise in digitizing the content provided by its parent firm, Shobunsha.
It took almost two years for Yamamoto to finally pick a few to start with.
The next problem is there are many competitors in the car navigation market.
This series has been prepared in collaboration with Enjin Co., which produces and operates a video website, kenja.tv, specializing in profiles of up-and-coming Japanese entrepreneurs.
---