Learn what it takes to have a successful future from these company leaders in our new series.
Sapporo dentist uses special technique to give mouth new lease on life
Providing perfect treatment for patients with missing teeth is one of the biggest challenges faced by dentists.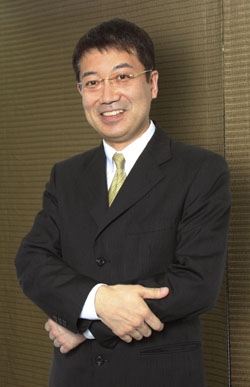 Implant treatment is too expensive for most patients, but complete dentures, which are usually covered 70 percent by health insurance, often don't fit patients' mouths very well.
Yasunori Kitayama of Kitayama Dental Clinic in Sapporo says he is an expert on complete dentures, prosthetic devices that replace all missing teeth.
"Our aim is to enable patients to bite into a whole apple comfortably. That is very difficult and many dentists and patients give up, but I am one of the successful few," Kitayama says.
The 45-year-old Kitayama, who has been a dentist for about 20 years, has treated some 160 patients with complete dentures for the top teeth and for both top and bottom teeth. He says that as a result of his treatment, these patients are able to comfortably chomp on an apple.
There are probably about 20 dentists in Japan with the skill to enable patients to bite a whole apple with complete dentures, but he and his mentor are the only ones who have successfully treated more than 100 patients, he says.
Patients with all their teeth missing have three options if they want to eat solid food — complete dentures to which health insurance is applicable, more expensive and higher-quality complete dentures without the insurance, and implants for all the missing teeth, which is the most expensive alternative.
High-quality dentures give the wearer the ability to bite comfortably while fitting to the mouth in a nonirritating way. And while dentures are removable, implants are artificial tooth roots and teeth firmly buried in the jaw bone.
Insured dentures can be removed easily, but tiny pieces of food, such as strawberry seeds, can slip between them and the gum, causing irritation.
Uninsured dentures, on the other hand, can't be easily removed. His patients have to use two hands to remove them, and sometimes gargle hard so as to put tiny air bubbles between the denture and the skin to make it easy for them to take the dentures out.
He says he is an expert in complete dentures — to which health insurance is not applicable — even though 90 percent of his patients who require complete dentures opt for a set with health insurance.
Insured dentures cost about ¥50,000 or ¥60,000, which means patients have to pay ¥10,000 or ¥20,000, with the remaining covered by insurance, compared with about ¥2 million for a package of uninsured dentures, which feature better material and uninsured rehabilitation of mouth muscles, Kitayama says.
Implants for all 28 teeth often cost at least ¥5 million, according to Kitayama.
The revenue at his clinic had constantly risen to ¥180 million through 2009 but fell to ¥160 million in 2010.
It takes anywhere from two months to one year to finish an entire course of treatment for uninsured dentures and rehabilitation, he says. Taking the implant route takes about the same time.
Rehabilitation is an important part of treatment because patients with bad teeth don't use some mouth muscles, and thus they will not be able to bite and chew well even after the dentures are installed, Kitayama says.
As patients get used to biting and chewing, they develop muscles in their mouth and throat, preventing accidental intake of food and drink into the lungs, a major cause of pneumonia for the elderly, he says.
Kitayama says he is one of about 300 dentists who took seminars from Kozo Kawarada, a "legendary" dentist in Mie Prefecture who was the pioneer of the so-called Kawarada method for treating patients by offering the package of uninsured dentures and uninsured rehabilitation of mouth muscles.
But only about 20 of them can successfully treat patients to be able to take a bite out of a whole apple, he says, adding that the number of patients who come away completely satisfied has been low.
Kitayama says most doctors gave up on the Kawarada method because of the difficultly in obtaining the skill to pull it off correctly.
Biting a whole apple is probably the most difficult activity for people with oral disabilities. Even eating French bread, for example, is easier because people don't have to open their mouth as much as they do when eating an apple, and they can bite French bread without using their front teeth, while that is impossible with an apple, he says.
Kitayama, who graduated from Hokkaido University, established the Kitayama Dental Clinic in 2001.
This series has been prepared in collaboration with Enjin Co., which produces and operates a video website, kenja.tv, specializing in profiles of up-and-coming Japanese entrepreneurs.
---