Learn what it takes to have a successful future from these company leaders in our new series.
ASK offers help in quest for self-improvement
For Yoko Kaga, CEO of ASK Academy Japan, her turning point came over 15 years ago when a good friend from junior high school recommended she attend a self-improvement seminar.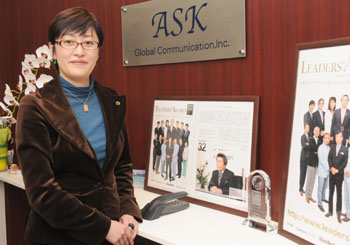 Kaga, who was working for a large Osaka-based corporation at the time, recalled how she resented the idea at first, considering herself too elevated to accept advice from a friend who was working in a small company and whose grades back in school were lower than hers.
"I was very stuck up back then," Kaga laughed. "I was working in this big company, and was earning a decent salary, the job was secure."
"But then I heard how much she was making, and was surprised . . . her salary was merit-based, and higher than what I was getting," she said.
This frustration prompted Kaga to attend the seminar her friend recommended, hosted by U.S.-based training and development firm ARC International — founded by Robert White, former president of Lifespring Inc. — which changed her life.
"It was a shock," Kaga recalled, explaining that the seminar taught her that "life was about making choices, and if you wanted to lead a good life, you had to take risks and pay a price."
"I opened a Pandora's box, and all possibilities came forth," she said.
After attending the seminar for six months, Kaga quit her job and joined ARC International, working in customer support while learning the basics of running business and training seminars.
This was when she met Yuichi Matsuda, future founder of ASK Global Communication, ASK Academy Japan's parent company, and Kaga's business partner, who at the time was working as a trainer at ARC International before moving on to Achievement Corp., a domestic human resources training company.
With Matsuda's recommendation, Kaga also joined Achievement Corp. in 1998, and worked there for 4 1/2 years before quitting to work with Matsuda, who launched ASK Global Communication in 2002.
With headquarters located in Hawaii and an office in Otsuka, Tokyo, ASK Global Communication is the only Japanese company that represents the Professional Dynametrics Program (PDP), an integrated management system born in the U.S. for analyzing workforce behavior and maximizing employee productivity.
But ASK's most prominent offerings feature the three-tier ASK, SEEK and KNOCK courses, derived from the company name and the famous Bible verse, Matthew 7:7 "Ask, and it shall be given you; seek, and you shall find; knock, and it shall be opened unto you."
While Kaga said she was not raised a Christian, she and Matsuda decided to convert to Christianity in 2002 after reading a book by the Rev. Arthur Hollands, a Harley-Davidson riding biker priest known for preaching in Shinjuku's seedy Kabukicho district and leading "Mission Barabbas," a Christian team consisting of former yakuza.
Kaga, 41, said one-fourth of the three-day ASK basic course was spent on lectures, one-half on practical training including group discussions, role-playing and Closed Eye Process, or CEP image training, and the rest of the time sharing personal experiences among students.
The four-day SEEK course consists of intensive overnight sessions and concentrates on improving one's self-image, clarifying one's priorities and sustaining one's motivation. "We will create miracles in your life," ASK's website says.
The KNOCK "leadership course," lasts six days and spans a period of three months, and focuses on setting goals, cultivating one's "frontier spirit" and becoming a model leader, according to the website.
ASK Academy Japan also teaches various other courses including seminars on improving public speaking skills and lessons on enhancing sales techniques, while also inviting guest lecturers to teach other courses.
Kaga, who became CEO of ASK Academy Japan in August, said she spends an average 100 days a year as a trainer teaching these courses, while Matsuda spends 300 days on the job. An average 2,000 to 2,500 students enroll in these seminars each year, Kaga said, mostly through word of mouth.
"The seminars can be unpleasant in the sense that you are forced to recognize your potential, to think outside the box," Kaga said.
"You come to understand that unless you are well-prepared, you could miss opportunities in life," she said.
Kaga said that while ASK's courses were tailored toward salespeople, they accepted anyone over 20 years old, and said there were many college students who, in Japan's current severe employment situation, come to ASK's seminars seeking a direction in life.
"Our oldest student is 88 years old," Kaga said.
Kaga said Japan's sluggish economy and bleak outlook has led to a dichotomization of wealth, with the rich getting richer and the poor becoming poorer.
"That's why I believe it's essential that more people with healthy work ethics enter the workforce," she said.
While there are various other business and self-improvement seminars offered, Kaga said her goal was to make ASK synonymous with human resources training in Japan.
"Anybody can take our courses, even if they don't have a career. We help provide step-by-step advice necessary in discovering what kind of life one would like to lead, what kind of person one wants to become," she said.
This series has been prepared in collaboration with Enjin Co., which produces and operates a video website, kenja.tv, specializing in profiles of up-and-coming Japanese entrepreneurs.
---