Learn what it takes to have a successful future from these company leaders in our new series.
Enokiya takes on real estate problems others shun
When thinking about the real estate businesses, many people probably think it simply involves finding, renting or selling properties.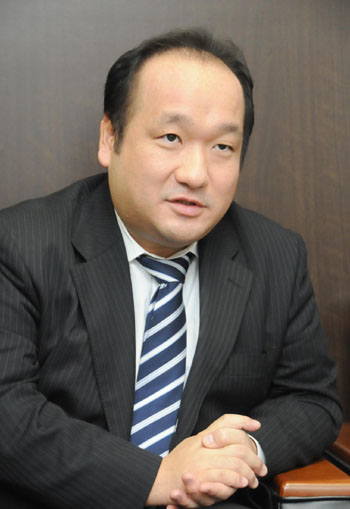 But Tetsuya Yoshioka has created his own niche business in the industry.
"I don't mean to complain but the image of the real estate industry is not very good. There are cases in which real estate companies put properties on the market when they know they have problems (such as leaks or structural faults), and then ignore buyers' complaints when issues crop up after the realtor has sold them," said Yoshioka.
"Our business is (mainly) for people who have already either rented or owned properties but who are facing trouble in relation to them," said Yoshioka, who manages Enokiya, his own real estate consulting and solution business.
"It's a business field that not many people are willing get into," he said.
Yet Yoshioka, a 40-year-old Tokyo native, saw a business chance and founded his company in Setagaya Ward in 2002.
Enokiya provides consulting services to people who have property-related concerns and often serves as a mediator for people who encounter problems.
Cases range from, for instance, apartment managers who have problems with tenants or vice versa, people looking to sell properties but do not know how, mediating family inheritance issues, and consulting with people who are having difficulty paying off their mortgage.
Having studied urban economy at college, Yoshioka started his career at a major real estate developer, where he worked for several years, then moved to another real estate company for about a year.
He then changed to a real estate consulting company and gained a further three years of experience before he decided to found Enokiya in Setagaya Ward's Soshigaya district, where he was born.
"I wanted to run my own business someday," Yoshioka recalled.
Since its foundation in 2002, Yoshioka said the business has been gradually growing and sales have also been increasing. Currently, he employs eight people in the company.
Unlike regular real estate business, Yoshioka said one characteristic of his business is that it takes a long time to finish one case. For instance, quickly selling off a property on behalf of the owner, also known as a short sale, takes about six months and inheritance-related issues often take at least a year.
Moreover, the business involves a thorough understanding of law and people's rights regarding property, as real estate-related issues are often complicated.
"So, regular real estate companies would not really want to do this business," which is why Yoshioka took on the challenge, he said.
But he said since solving one case often takes so much time and effort, business management techniques can be inefficient, and it is his goal to improve management efficiency through getting more knowledge and widening his business network.
He said more than 90 percent of the cases involve solving issues between people. He also deals with many inheritance-related issues, such as troubles between an owner's wife and his former wife, or between legitimate and illegitimate children.
Hearing the description of this real estate consulting business sounds as though it involves more lawyers' work, and indeed, "there are lawyers and judicial scriveners (who deal with such issues), but it can be costly to seek their support," said Yoshioka, adding that Enokiya provides services at about 30 to 40 percent of the cost in many cases.
And while lawyers tend to solve problems based on rule of law, "we listen carefully to both sides and try to find a solution that would be good for the both through dialogue. Of course, there are situations when the law plays important roles," said Yoshioka, adding that he sometimes receives requests from lawyers who seek ways to avoid court trials of their cases.
Asked if running such a specialized consulting business is risky, since many cases involve very personal and complicated matters, and he has to wade into the middle of those disputes, Yoshioka confirmed that there are risks.
"But at the same time, we can't carry out our business unless we really understand the situation," Yoshioka said.
Indeed, some of the cases are even more complicated than some fictional drama episodes, he said.
"When it comes to troubles between neighbors or other people, I wouldn't say I felt frightened, but there have been cases that were not looking healthy," he said.
In the meantime, since the business involves complicated issues in which many parties are involved, Yoshioka said it is these cases which motivate him.
"When you finish a case, the sense of fulfillment is great," he said.
Yoshioka pointed out that there are still not enough companies that provide real estate consulting, although there are people who are not sure where to go when they encounter real estate troubles, which is the biggest reason driving Yoshioka.
"Working in the real estate industry, people would assume that your biggest motivation is money. With my case, of course, I'd like to make a profit, but it's best when people are happy that they are free of troubles because of my assistance," he said.
This series has been prepared in collaboration with Enjin Co., which produces and operates a video Web site, kenja.tv, specializing in profiles of up-and-coming Japanese entrepreneurs.
---