Learn what it takes to have a successful future from these company leaders in our new series.
Nexcent's Nukamiya carves new niche in consulting
Yoshinori Nukamiya, 47, has spent almost his entire career in the consulting business.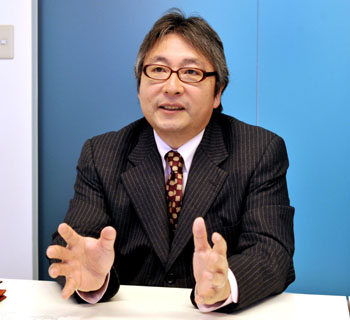 After working for large consulting companies, he established his own firm, Nexcent Inc., in August 2006 to provide services not offered by larger firms.
"We are different from our rivals because our focus is on enabling our clients to execute their goals. Many consulting companies advise their clients based on the needs of the clients' customers and society," said Nukamiya, the firm's chairman and CEO.
Famous large consulting firms sometimes hire Nexcent to cover "goal execution" because that's an area where they aren't strong, he said.
To execute goals, company employees must share their company's "significance of existence," and Nexcent helps clients achieve that, he said.
Few consulting firms focus on that point because there has been little need for it, but this changed after the Lehman shock in September 2008, he said.
"It's like getting in a cab not knowing your destination. Other consulting companies teach you how to pay and ask the driver where to go," he said. "Even our clients don't know their vision or value. We help visualize that."
For example, Nexcent helps employees of its clients visualize the state of their relationship with counterparts in customer companies when the goal of ¥10 billion in annual sales is achieved, he said.
Nukamiya said Nexcent's six consultants often hold extensive meetings with a client firm's top executives and middle management to come up with that company's significance of existence.
For instance, Nukamiya said, his firm helped a bank reaffirm with its employees the company's "core value," which the employees hadn't completely shared.
He arranged conference rooms in a Tokyo hotel and held three-day-long discussion sessions with top executives and middle management, dividing them into five- or 10-member groups to brainstorm about the organization's culture to enhance company performance, and the position of each individual in the ideal organizational structure.
Executives and middle management reached a shared core value after the sessions. They ended up admitting the importance of the core value even though Nukamiya had told them it would be OK if the brainstorm sessions yielded the conclusion that they don't like the core value, he said.
In another case, he arranged similar discussion sessions with the president and executives of an electronics component maker, helping it create a vision and a way to achieve that vision. The company explained the plan to its shareholders and won their approval. The company later revealed the vision to all employees.
To convince people of the benefits of hiring Nexcent, Nukamiya asks them to check if they have a clear goal. If so, he asks whether they can visualize a realistic way to reach that goal and whether they can visualize the situation after the goal has been achieved.
"If the answers are all yes, they don't need us. Otherwise, they could use us," he said.
Nukamiya worked as a consultant for several firms, including the Japanese unit of Andersen Consulting, which is now Accenture PLC, and the consultant division of Japan Research Institute Ltd. Most recently before founding Nexcent, he worked in Globis Group's consulting division.
The Lehman shock didn't affect Nexcent very much because it was only two years after his company was established, Nukamiya said, declining to give his company's exact sales and earnings.
Large companies, which form Nexcent's major clients, cut spending but didn't cut funding for revitalizing themselves, he said.
Nukamiya had never been engaged in "visioning" work, or generating a company's vision and making sure it is shared by employees, until he founded Nexcent, he said.
Nukamiya said 20 percent of the work of consulting firms in the U.S. involve "visioning," but their counterparts in Japan don't emphasize this area for several reasons.
One is that Japanese companies cut expenses on the "visioning" part of consulting jobs because they think they can do it without help, he said. Another is that consulting firms want to do other types of work that are more profitable, such as establishing a new computer system, he said.
This series has been prepared in collaboration with Enjin Co., which produces and operates a video Web site, kenja.tv, specializing in profiles of up-and-coming Japanese entrepreneurs.
---