Learn what it takes to have a successful future from these company leaders in our new series.
Builder of electric boat motors on a green mission
Kiyoshige Ito is the president of ITO Co., a producer of an electric outboard motor for boats. Together with his staff, Ito seeks to do his part to fight global warming through the production of fishing boats that run on electricity rather than gasoline or fuel oil.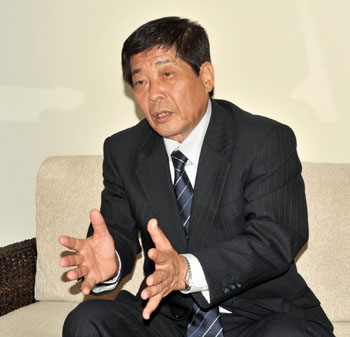 "I worked for 25 years as an engineer at a company involved in nuclear fuel production," he said. "I could have gone on working until retirement, but over time, I became more and more concerned about the environment. The destructive action of human beings was becoming too big to overlook."
Determined to apply his acquired knowledge as an engineer in areas that would contribute to ecology, Ito established his company in 1995 in Ehime Prefecture.
"In those days, I was still vague on what I could do specifically. But looking at the sea and the fishermen around me, I hit upon the idea one day of producing an electricity-powered fishing boat with no carbon dioxide emissions," he said.
"Fishing boat engines that operate on gasoline or crude oil have a massive impact on the environment," Ito said. "I realized that the key to preserving the sea would be to replace gasoline-operated engines with rechargeable battery motors."
But since he did not know of any such boat that existed, Ito had to start by designing and building the boat that would operate on an electric motor. Then he had to develop the motor. The most difficult part was funding. He even had to dig into his private savings as the project progressed.
Different from electric vehicles on land, the development of electric power-operated boats also meant confronting natural maritime conditions, including waves, wind, rain, salt damage and water immersion.
"Our research and development took time. We also had to go through countless trial and error. We spent five years on basic research. It took us almost another 10 years before we could test our battery motors in the water," Ito said with deep emotion, recalling his company's past.
Receiving favorable comments as a light, powerful, quiet and clean motor from the fishermen who have tested the boat, the project has come to receive financial backing from the government: the Fisheries Agency gave around ¥8 million in financial aid the for the boat performance test that was started Sept. 21 and will continue until Jan. 31.
The test is now conducted off Tsushima, Nagasaki Prefecture, using a boat that measures 6.6 meters in length and a motor with output of 30 horsepower. The test boat can operate for about four hours after recharging the battery for eight to 12 hours. The company is collecting specific data on the merits of the electric motor-incorporated fishing boat, as plans proceed to commercialize the rechargeable battery-operated boats next year.
With the electric motor, the boat reduces by 60 percent the carbon dioxide emitted from a similar-size boat running on gasoline, Ito said, adding, "our electric motor boats reduce energy costs by around one-fifth that of fuel oil-operated boats."
The use of clean energy is becoming the norm on land, as seen in the development of electric cars. Ito's action is geared toward taking that technology to the water, where less attention is paid to the environmental effects from ships and other seagoing vessels. His decision to take the first step with small fishing boats was a good way to save production costs. The price for the boat is not yet fixed, but will likely be decided by next spring.
Ito explained his vision for the electric motors: "Our first step is to replace all the externally installed engines and tanks of fuel oil-operated, small boats into electricity-operated motors and batteries. The second step is to apply that electricity-operated technology on larger vessels of up to 5 tons. These vessels will house the batteries within and will be suitable for longer-distance coastal fishing. In the near future, we hope to consolidate a battery recharging infrastructure, including easy attachment and replacement of batteries, especially for the high season for fishing."
Toward the future, the company hopes to slash the battery recharging time while extending the operating time.
The diffusion of electric motor-operated fishing boats will reduce the emission of carbon dioxide greatly, Ito said, and will therefore improve the marine environment as a whole.
The project will also be able to gain considerable profit by calculating the total amount of carbon dioxide reductions according to each fishing cooperative, for example. The bulk amount of the earned carbon dioxide credits can then be sold to large-scale manufacturing plants that need to offset their carbon dioxide emissions volume.
Through such actions, Ito and his company are hoping to curb global warming. In addition, Ito believes it will stimulate the fishing and marine produce business in the locality and in Japan as a whole.
"Ultimately, we hope our system born in Ehime Prefecture will contribute to realizing a carbon-free society," he said. "We seek to continue proposing various visible environment preservation measures by constructing a sustainable system for the next generation."
This series has been prepared in collaboration with Enjin Co., which produces and operates a video website, kenja.tv, specializing in profiles of up-and-coming Japanese entrepreneurs.
---