Learn what it takes to have a successful future from these company leaders in our new series.
Secondhand venture shoots for women
Dopo Inc. President Motoyasu Sugai is on a mission to change how the recycling business is perceived.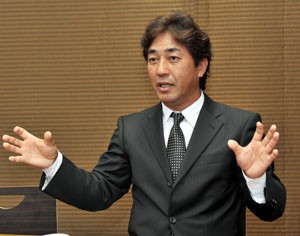 "In Japan, when people think of recycling business, many imagine junk piling up on racks. I didn't like that. . . . I wanted to change the image," Sugai, 58, said in an recent interview with The Japan Times.
Based in Fukushima Prefecture, Dopo specializes in the secondhand-goods business, purchasing and selling used toys, games, CD, DVD, comics, clothes and other items. This year its stores started selling new women's wear made in and imported from Thailand, Taiwan, China and South Korea, he said.
"At first glance, you wouldn't think it's a recycling shop. It's bright and clean. Outside, there are huge panels of models wearing our original women's wear," said Sugai. "It's a collaboration of the recycling business and apparel. I don't think anybody else runs (this kind of business) in Japan."
Founded in 2003, Dopo opened its first shop in Koriyama, Fukushima Prefecture. Today, it runs 10 stores and three franchise chains mostly in the Tohoku region and has about 70 full-time and 150 part-time employees and more than 300 registered workers who specialize in polishing and refurbishing used goods to near their original condition.
Business has been good, Sugai said. He believes it's difficult to log a deficit in the recycling business.
"Many don't believe it when I tell them how much our profit is. . . . As for our shops, (the profit) margin is between 60 to 63 percent," Sugai said.
In its first business year in 2003, the company posted about a ¥35 million net profit on sales of around ¥220 million. In fiscal 2009, its net profit grew to about ¥110 million on sales of around ¥1.5 billion, according to Sugai.
One of the keys for its steady growth was a drastic image transformation, Sugai said.
"The earlier shops were dingy," Sugai said. "They were dark inside and the exteriors were black . . . shops women were hesitant to enter."
He designed the earlier shops based on Steven Spielberg's adventure franchise "Indiana Jones."
He decorated the entrance with black railroad ties and placed miners' helmets, pickaxes and a tram at the door. The interiors were dim to give customers the feel of being in a cave, Sugai explained.
"It was like a maze inside. And it was fun. But gradually, both customers and staff got bored with it. Also, it was difficult to see displayed goods," Sugai said.
According to Sugai, about 90 percent of customers were male in the early years. Women only came with their boyfriends, he said.
When Sugai began thinking of expanding by opting for the franchise route, he knew a drastic makeover was needed to attract a wider range of customers.
"The exteriors were changed from black to white," Sugai said.
He also made the lighting brighter and put neatly written little explanation cards by the products.
Now about 60 percent of customers are women and more families are visiting the stores, said Sugai.
Together with the image makeover, Sugai installed a point of sales system for inventory management.
"There are about 300,000 items in one branch. If I were to go franchise, I'd need to properly manage all those goods," Sugai said.
Although it took years to fully implement the POS system, it enabled managers to learn about customer trends, hot-selling products and other useful information, Sugai said.
With all the efforts, it was still hard to find franchise partners, Sugai said. Although many came to see the bright, white shops and learned about Dopo's profits, they still weren't eager to jump aboard, Sugai explained.
"Many said, 'I understand it's a lucrative business, but it's not for me," he said, adding he believes their reaction was mostly due to the image of dealing in secondhand goods.
To further change its image and boost revenue, Sugai started up four woman's wear brands to sell alongside secondhand clothes.
The image makeover has attracted many companies across Japan, including firms listed on the first section of the Tokyo Stock Exchange, Sugai said. Currently, he is in talks with several companies to sign franchise chain agreements.
A graduate of Doshisha University, Sugai worked for a fabric import company for more than 10 years, frequently flying between Europe and Japan. Through tough business negotiations, he learned English, Sugai said.
Offered a job by his friend, who was vice president of a video chain franchise, Sugai joined the company, taking charge of introducing uniforms in its over 600 branches and later guiding overseas expansion of the rental business in Thailand.
Just in one year, he set up 20 stores in the country, Sugai said.
By the end of this year, Sugai is planning to open another two stores, in Saitama Prefecture and the Kansai region.
As the next step, Sugai is aiming to list its shares on the stock exchange. Also, when the firm gains enough strength to take a risk, he wants to launch a store in the heart of Tokyo.
"I want to make our stores something that customers enjoy. . . . Without that, there is no future (for our company). I believe customers' joy leads to the happiness of the employees and myself," Sugai said.
This series has been prepared in collaboration with Enjin Co., which produces and operates a video website, kenja.tv, specializing in profiles of up-and-coming Japanese entrepreneurs.
---