Learn what it takes to have a successful future from these company leaders in our new series.
Tea manufacturer believes in spreading the health
Staff report
Tazuko Nomoto wholeheartedly believes in her products because she became healthy by using them.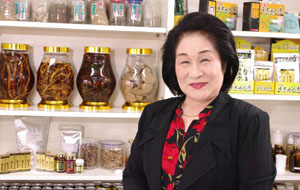 The 73-year-old founder of Fukuoka Prefecture health product maker Elegant Japan Corp. was sick and hospitalized on and off. In the early 1980s, she was told she was life-threateningly sick but doctors did not know the cause of her illness, the symptoms of which included fatigue and dizziness.
Elegant Japan's products are not medicine in compliance with the Pharmaceutical Affairs Law, and the products do not cure any particular illness, but Nomoto and others believe they make people healthy in general. Nomoto also claims she and others were cured of their illnesses after using the company's products.
"I was working really hard and suddenly fainted. I had been going back and forth to hospitals for three years" from 1980, Nomoto said. "Doctors at a Kyushu University hospital did not give me medicine because they didn't know what was wrong with me."
While in bed at one hospital, she decided to close down her construction company and soon founded a company selling health-related equipment and later one developing cosmetics using high-quality water.
But since she was still sick, those businesses failed to pan out. Then she heard about "Hyuga Touki," a plant similar to Korean ginseng. Hyuga Touki is found in southern Oita Prefecture and northern Miyazaki Prefecture.
People in the local areas told her that women eat Hyuga Touki leaves after losing lots of blood during childbirth. This led Nomoto to try the leaves on a hunch.
She ate them and drank tea made from them. Later, doctors expressed surprise as her health miraculously returned, she said.
While it is unclear whether there is a causal link between Nomoto's Hyuga Touki intake and the improvement in her health, she had discovered a new business idea and founded Elegant Japan in 1984.
"I just want as many people to know this wonderful product, Hyuga Touki, as possible," she said. "My motivation for doing a business that makes people healthy is that I felt happy living when I cured my disease."
Her first job was to make tea out of the leaves. Reducing the bitterness of the tea, which is more stringent than regular tea, was one of the biggest obstacles, she said. It is now more palatable but still slightly more bitter than regular tea.
She wanted to allow her customers to eat the tea leaves as well as drink the tea, but said that very few people eat them now despite her continuous efforts to raise awareness of the effects of eating the leaves.
"It is 'mottainai' (wasteful) to throw away the leaves even after making tea out of them. I ate them and I became remarkably better. The effects are obvious," she said.
That is why she began developing Hyuga Touki tea bags, currently part of her product lineup.
The company's website states that customers can put the powder in pancakes, curry and bread. It also says the tea can be mixed with regular tea and coffee and can even be used to wash fish and sprayed onto meat.
Hyuga Touki makes meat more tender, fish less stinky and the taste of coffee milder, the company's website claims.
"I tried making Hyuga Touki leaf tempura and it was too bitter," she said. "I thought not many people want to eat the leaves themselves, and thus mixing them with something is the way to eat them."
"So many people told me they appreciate our products," she said.
In order to promote the eating of Hyuga Touki, she created Kahou Club, which currently has about 50 members and gathers once a month to hold lunch meetings and other events.
When someone asks her what Hyuga Touki leaves are good for, she says her reply is always, "It makes blood circulation smooth. When blood circulation is smooth, you don't get sick."
Elegant Japan's website says research by Dr. Shuichi Mizuno proves that Hyuga Touki's nutrients optimize balance for the whole body, lighten symptoms and improve the body's natural healing ability.
Mizuno also wrote a book about the medical effects of Hyuga Touki in December 2008.
Smooth blood circulation means less cholesterol in blood, which prevents hypertension, a cause of heart disease.
Nomoto's company basically does not sell to foreign countries, though she shipped some to Asia during a SARS outbreak in 2004.
"I just want to sell Japanese products to Japanese people. If someone wants to sell our products overseas, please do," she said.
Her company sells directly to the consumer and indirectly via distributors so customers can get its products at drugstores and convenience stores.
The product lineup also includes canned tea, tablets and soaps.
The retail price for a box of 75 tea bags is ¥21,000. A tea bag makes 1 to 1.5 liters of Hyuga Touki tea. A case of 30 cans of 190-ml Hyuga Touki tea is ¥5,400.
Elegant Japan has 18 employees. Nomoto declined to disclose the company's sales.
This series has been prepared in collaboration with Enjin Co., which produces and operates a video website, kenja.tv, specializing in profiles of up-and-coming Japanese entrepreneurs.
---