Learn about innovative strategies and successful business philosophies from Japanese executives in our series, Wisdom of Entrepreneurs
October 19, 2010
Wedding of camera, scanner tale of success
Staff report
About 10 years ago, Kyoto-based Newly Corp. President Atsuo Ida concluded the market for scanners was saturated and that he would have to come up with new products for other markets.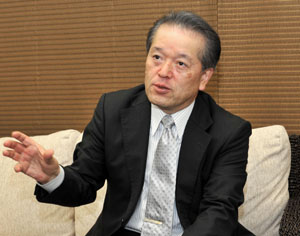 Man of vision: Newly Corp. President Atsuo Ida is interviewed in Higashi-Ginza, Tokyo, on Oct. 7. YOSHIAKI MIURA PHOTO
Ida, 58, hit on the idea of combining the strengths of both scanners and cameras. While scanners have a higher resolution, they cannot scan objects in 3-D, which is where cameras excel.
Even the highest quality cameras top out at 10 million to 20 million pixels, whereas the best scanners go up to about 100 million or 200 million pixels, Ida said.
"It's common sense that we use scanners to capture digital images of 2-D objects and use digital cameras to take photos of 3-D objects. We wanted to challenge that common sense," Ida said. "There are so many problems in digitizing images. Our products are solutions to many such problems."
He and his team at the 32-year-old company developed and began selling the Scamera, a scanner that can scan 3-D objects, in 2002.
"Ordinary people think scanners can scan only paper. We want to enable people to scan everything in this world and do what they cannot do with cameras. For example, taking precise measurements of the size of something big is impossible with images taken with a camera, but possible with scanned images thanks to higher resolution," Ida said.
Some Scameras come with a drawer for putting objects in to be scanned. Others look like cameras with scanner technology and are capable of taking panoramic photos of such scenes as the ruins of ancient cities and so on.
Besides measuring the size of large objects, Scameras are also used to check for flaws, such as tiny holes and cracks, in industrial machinery and other large objects, as well as making high-quality replicas of paintings.
"I had always thought I wanted a Scamera to be used for fine arts," Ida said. Scameras are also used for magazine photos and PR materials if publishers require the highest visual quality.
The Scamera, however, was not a success from the beginning.
When Ida showed a Scamera image of a painting to the artist who painted it, the artist complained about the quality.
That inspired Ida to develop technology to enhance visual quality. His answer was "multiangle scanning," a technology his company developed and acquired patents for in 2004.
With multiangle scanning technology, the Scamera's lens scans objects from many different angles, just like a person observing a precious stone from many sides to check for flaws, Ida said. That enhances the realism of objects when they are expressed in 2-D, he said.
Normal scanners have a lens that points at objects only from above, he added.
However, once multiangle scanning technology was introduced, he started hearing from artists about how accurately their works were being reproduced, he said, even to the point where the painters were giving out scans of their works.
Scamera printouts are also often used to decorate interiors, he said.
The largest Scamera, often used for paintings, can scan an object 2 meters by 2 meters in size, while a smaller version is about the size of an ordinary SLR.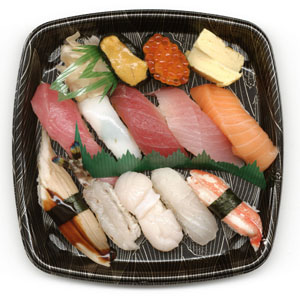 In-depth copy: An image of a box of sushi is scanned with a Scamera. COURTESY OF NEWLY CORP.
Besides paintings, the Scamera is also used in commercial photography. For example, the economy ministry used a Scamera image of sushi in its tourism promotion material.
A souvenir shop used a scan of "nama-yatsuhashi," a popular sweet in Kyoto, because it was so real customers at first couldn't tell it was an image, he said, adding that it's cheaper to print out Scamera photos than crafting samples made of wax or plastic.
For industrial use, the Scamera is used to detect holes only several micrometers wide in equipment for making semiconductors and other machines. It is easier to study photos made by a Scamera than to visually inspect for holes with the eye, he said.
Sometimes, Newly takes customers' photos and sells them the images, Ida said.
One of the founders of Newly, Ida was born in Shimane Prefecture and graduated from a local engineering high school but did not go to university. The company has 144 employees, 110 of whom are engineers, he said. Ida declined to disclose Newly's sales, most of which are in Japan, he said.
However, he added, the company is receiving an increasing number of inquiries from overseas.
"Word of mouth gets us new customers," he said.
In 2009, Scamera technology received the Monodzukuri (Manufacturing) Japan Award from the Ministry of Economy, Trade and Industry. Typically, Scameras range in price from about ¥1.5 million to about ¥10 million. The largest, which can scan paintings and other objects up to 2 meters by 2 meters, costs about ¥30 million.
This series has been prepared in collaboration with Enjin Co., which produces and operates a video Web site, kenja.tv, specializing in profiles of up-and-coming Japanese entrepreneurs.