Learn what it takes to have a successful future from these company leaders in our new series.
Doctor explores corporate health market
Takashi Shimizu, a doctor of internal medicine, is exploring a niche market.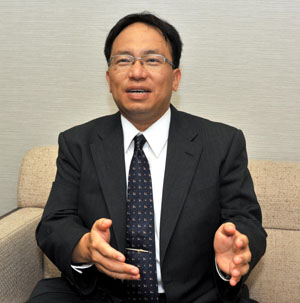 He founded the Japan Medi-Mental Laboratory in August 2006 to provide emotional, medical and other support measures for corporate employees facing psychological problems.
"Our job is to advise corporate clients how to manage a situation in which their employees need professional help," Shimizu said. "Clients normally don't know what to do in such situations."
His company, which employs doctors, social insurance labor consultants and health experts, makes its money signing up corporate clients.
The company dispatches consultants when the clients request help to cure workers. In addition, the company advises clients how to handle other employees so they don't resent their ill colleagues by thinking they are receiving unfairly favorable treatment.
Providing advice to improve corporate rules on how sick people can come back to work is another service of the Japan Medi-Mental Laboratory.
"Doctors can't offer these services because that's beyond their job description. Companies' human resources departments have no medical knowledge and no idea how to handle these situations," Shimizu said. "That's why we're here."
In one instance, an employee at a foreign company refused a transfer order by claiming to have depression and showed a medical report to his boss. Shimizu advised him to "take time off until (he) is able to be transferred."
In another instance, the company helped a worker who had been going to hospitals for 20 years for depression treatment completely recover by advising him to go to a nose doctor who was able to fix his sinus problem.
The person, who Shimizu had been seeing every couple of months, complained about nasal congestion. Shimizu thought the congestion might be hindering him from getting a good night's sleep, leaving him tired and stressed. Thus he advised him to go to the nose specialist.
The point is that a psychiatrist doesn't look for nasal conditions, while Shimizu said he looks at patients' entire health, adding that his good relationship with the sinus patient helped.
Shimizu believes people should ask for help as early as possible if they are under stress or have any sign of depression.
A challenging part of his job is to educate those in managerial positions in companies.
"If symptoms are light, Japanese people tend to continue to go to work and wait until their symptoms get serious. Then they take a long leave and have to resign," he said.
"A direct boss should notify a human resources department when his subordinate is in an early stage of depression. But they are reluctant to do so because they fear their ability as managers will be questioned if the HR department finds out," he said.
Treating patients when their symptoms are light shortens healing times and can prevent potential labor-management disputes, Shimizu said, explaining why it is important to detect emotional problems before they become serious.
Few patients have heavy depression, while more common are minor mental problems from relationship problems and failure at work, Shimizu said.
He describes his job as a coordinator to connect patients with different kinds of doctors, and sometimes with municipality officials and lawyers.
"Psychiatrists, lawyers and other professionals. There are many experts, but what we need now are coordinators. Without them, we are wasting their skills," he said. "My job is to make full use of their skills by appropriately taking patients to who they need to go to."
Shimizu graduated with a medical degree from the University of Occupational and Environmental Health in Fukuoka Prefecture in March 1991, worked for hospitals and as an industrial doctor for a chemical company between then and 2002, and joined Mein Inc. Shimizu left Mein in July 2006 and founded the Japan Medi-Mental Laboratory a month later.
This series has been prepared in collaboration with Enjin Co., which produces and operates a video Web site, kenja.tv, specializing in profiles of up-and-coming Japanese entrepreneurs.
---