Learn what it takes to have a successful future from these company leaders in our new series.
Consultancy fosters globally competitive personnel
When Masaru Furukawa set up a small consultancy specializing in human resources development and related services some 10 years ago, many Japanese corporations weren't alarmed by the shortage of "globally competitive personnel."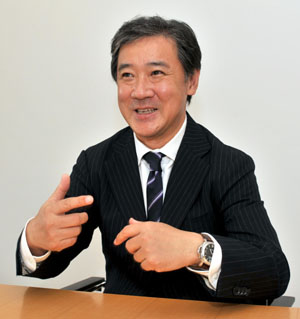 At that time, many companies thought that providing English-language training for employees with professional skills would suffice to foster globally useful personnel, Furukawa recounted.
"The fact that many companies are now desperately vying for globally oriented employees has proven that their approach was wrong," said Furukawa, president of Global Education and Training Consultants Co. in Tokyo.
Globally competitive personnel are in high demand and in short supply, Furukawa said, due to historical changes in the globalization process, as argued by Pulitzer Prize-winning author Thomas Friedman. In the American writer's view, the world has entered a new stage of globalization, or what he termed Globalization 3.0, in which individuals will be the principal driving force in manifesting innovation and development, replacing sovereign states and governments (Globalization 1.0), and business corporations, particularly multinational enterprises (Globalization 2.0).
"No doubt, the operations of business corporations are being globalized at a rapid pace, but the globalization of individuals is progressing at a snail's pace. This is particularly true with Japan," Furukawa warned.
"Human resources managers at many Japanese companies had, and still have, a mistaken assumption that providing English-language training or English study tools for chosen employees with high professional skills should suffice to address the globalization needs of their companies," he stressed. "Today, English proficiency is only one requisite for knowledge-based workers who are on the front lines of global business."
In addition, he said, employees lack a sense of crisis and urgency over the reality that they are being exposed to tough competition on a global scale in terms of competencies and wages, as shown by the massive entry into the global labor market of highly motivated, well-educated young workers with professional skills and English proficiency from China, India and other emerging economies.
"In the long term, demographic changes will necessitate massive inflows of foreign workers into Japan's domestic labor market. Irrespective of business turf and size of employers, Japanese individuals must be prepared to collaborate and compete with foreign nationals in their workplaces and communities," Furukawa predicted.
In anticipation of this, Furukawa set up his consulting firm in December 2000, when he was 45, with the aim of connecting education resources around the world with the training needs of corporations and individuals.
"I was confident that there was considerable demand for our services. In the 10 years since its founding, the company has assisted about 120 companies, 30 percent of which were foreign-affiliated," he said.
"We offer unique and original training programs through our network of some 30 top-rated instructors, top-ranked business schools and universities, such as Harvard Business School; New York University; the University of California, Berkeley; INSEAD; and Carnegie Mellon University, as well as reputable language schools, both in Japan and abroad.
"The most vital feature of our programs that differentiates us from other human resources development consultants is our integrated capabilities to deliver practical solutions tailored to each client's particular business needs. With our collaborative network of valuable global resources, made possible through highly skilled coordination, we are able to deliver outstanding results at reasonable costs," he asserted.
Furukawa has developed, in collaboration with his partner consultants and on the basis of the firm's commitment to its clients, a basic model for the development of globally oriented and independent-minded people.
The model comprises two categories of mindset — visionary thinking and self-empowerment — and three skill categories — communication, diversity and "global English." These tools, which Furukawa argues are teachable, are made to resonate and amplify with each other through the help of his firm's specially developed programs, leading to the enhancement of an individual trainee's capability to work with a global and independent mindset.
By global English, Furukawa means the capability to speak English fluently as a tool for communication with nonnative speakers without excessive adherence to accuracy in pronunciation, vocabulary or grammar.
As a business, Global Education, with a staff of 20 full-time and part-time program coordinators, makes it a rule not to set any sales targets and has no sales force.
"We are getting inquiries and orders from clients by word of mouth," Furukawa said with a smile. He declined to disclose the company's revenues, however. He said only that it has enough resources to maintain its network of top-class professional instructors and pay for the salaries of the staff.
In a recent estimate, the market for human resources development training services is ¥600 billion to ¥700 billion and is overcrowded by numerous consultancies.
Although Furukawa, a seasoned instructor, has not set any sales targets, he has set future goals for his company. They are to gain recognition as Japan's leading education consultant, specializing in developing employees with a strong global mindset, and to assist "personal globalization" by opening its programs, developed exclusively for the training of employees at blue-chip corporations, to individuals who want to become globalized.
"In the era of Globalization 3.0, I believe that becoming globally competent is the only way for young people to survive in the 21st century," Furukawa said. "Furthermore, if they awaken their natural potential, Japanese in their 20s, 30s and 40s are capable of displaying strong leadership skills on the global stage.
"The problem is that they don't know how to adapt themselves to globalization. I am determined to keep on talking to the youth of this nation about how to find 'the meaning of life' and success in their careers."
This series has been prepared in collaboration with Enjin Co., which produces and operates a video Web site, kenja.tv, specializing in profiles of up-and-coming Japanese entrepreneurs.
---