Learn what it takes to have a successful future from these company leaders in our new series.
Dentist carves out new niche for Japanese clinics
Kenji Tsuchiya, the owner of Tsuchiya Dental Clinic in Hirakawacho, in Chiyoda Ward, Tokyo, says he is one of few Japanese dentists who was exposed to the concept of aesthetic dentistry in the 1980s.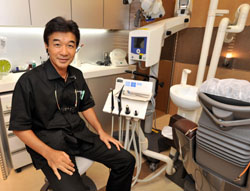 This type of dentistry — now popular in Japan — focuses on oral health and beauty, but it wasn't common here in the 1980s.
"Back then, dentists carved the cavity and filled the hole. That's it. When I went to the U.S., I was surprised how different it was," Tsuchiya said in a recent interview.
"The concept of aesthetic dentistry will be more popular in Japan because Japanese who do business overseas realize its importance. If you show your big smile full of decayed teeth to potential customers, it won't help you get your business deal," he said.
Born in Shizuoka Prefecture, he grew up in Yokohama and majored in dentistry at Tokyo's Nihon University. He worked at a dental clinic for a few years after graduating and getting a dentist's license. Then he went to the University of Southern California in 1987 to study with a dentist, Ramond Kim, for a year.
He spoke mainly English and a bit of Japanese with Kim, he said.
"Before I went to USC, I thought the U.S. would be more advanced in dentistry. When I went there, I found it was really advanced, in fact," he said.
For example, the material of fillings was of higher quality in the U.S., he said. Cheap and low-quality fillings would hurt the gums around the filled teeth. The technique of fitting fillings with teeth was also of higher quality in the U.S., he said.
"Back then, dentists in the U.S. were doing what is now considered normal," he said. "I learned lots of knowhow in dentistry in the U.S. Now the gap between the U.S. and Japan has narrowed dramatically."
An increasing number of Japanese dentists are currently recommending some uninsured treatment methods that are actually better than insured options in not only appearance but also oral health, he said.
For example, implanting artificial dental roots made of pure titanium, the mineral best-matching the human body, is not covered by health insurance but is a much better treatment to fill a missing tooth than the so-called bridging option, which is covered by insurance, he said.
In bridging, a dentist carves two teeth next to the spot where a tooth is missing and fills the carved holes with a mineral, whose insured option is palladium, to stabilize an artificial tooth.
But Tsuchiya said carving healthy teeth is not good for dental and oral health.
As for fillings, gold, platinum and ceramic are uninsured but better for gums than palladium, Tsuchiya said. Ceramic is white and thus typically preferred.
"I guess those uninsured minerals are expensive and the government doesn't want to pay for (part of) them. Oral disease may be considered not life-threatening, but if you see a mouth as one of the digestive organs, it's very important," he said.
"Poor digestion will lead to various illnesses," Tsuchiya added.
Despite the importance of dental care, Tsuchiya said there are many in Japan who need to go to dentists but are reluctant.
"A dental clinic is basically not a place people want to go to," he said. "So, dental patients typically wait until they are in pain or have visible symptoms. Such patients typically have symptoms that could have been much less serious if they had come to dentists earlier."
It is ideal to go to a dentist every six months, he added.
He said he tries to create a soothing environment so patients feel they are not in a dental clinic.
"I want to relax patients because they don't really want to come to a dental clinic," he said. A treatment room in his clinic has a brown wall and furniture instead of white, the typical color.
He also said he bought cutting-edge equipment to help perfect his treatment.
For example, he bought an advanced type of microscope to pinpoint precisely the location of implanting an artificial dental root.
He also bought a high-tech CAT scan for ¥30 million this year. The machine shows the location of nerves and bones in three-dimensional images of a patient's mouth, and a dentist can look at it as he or she drills an artificial dental root into a jaw bone.
"It's very important not to hurt nerves, so the CAT scan is very useful," he said. Conventional X-ray photo shows only 2-D images.
Patients can look at a recorded 3-D image of the drilling after treatment, he said.
Tsuchiya Dental Clinic is open from 10 a.m. to 6:30 p.m. Monday to Friday. It is open one Saturday a month.
This series has been prepared in collaboration with Enjin Co., which produces and operates a video Web site, kenja.tv, specializing in profiles of up-and-coming Japanese entrepreneurs.
---