Learn what it takes to have a successful future from these company leaders in our new series.
Investor Networks woos the timid
When Mitsuo Sugimoto started up Investor Networks Inc. in 2004, he wanted to form a bridge between individuals too cautious to invest in the stock market and companies that fail to provide enough information to attract their money.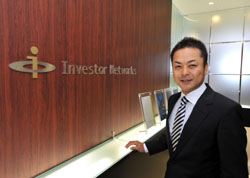 He believes more education about investment is crucial to prompt people to make active investments that could consequently revive the country's economy. His company, based in Tokyo, operates online systems providing investor information to individuals as well as company officials dealing with investor relations.
"One thing that makes Japan stand out, compared with other countries, is individuals' money," Sugimoto, 44, said. "No country has a pool of ¥1.4 quadrillion. They also don't invest much in stocks."
Even though Japanese have a total of ¥1.4 quadrillion in financial assets, more than half of it is in cash or pooled in savings accounts because of their aversion to risk assets. Money invested in stocks account for less than 10 percent of the overall amount, he said.
This cautious attitude has changed little over the past three decades. Many financial experts believe individual Japanese have distanced themselves from risky investments because they fear the prospects of insufficient social welfare support in the future amid the rapidly graying society.
Sugimoto said one reason individual investors steer clear of risk assets is that many Japanese benefited from high interest with low risk decades ago. In 1970s, for example, they received 8 percent interest on their postal savings, which, as part of a public institution, carried no risk.
But if 10 percent more of their money was invested in stocks, this would revive the economy, Sugimoto said.
When establishing his company, Sugimoto wanted to utilize his 20 years of experience as an IR (investor relations) consultant to help companies deal with investors.
He was hesitant at first to start an online business for retail investors, feeling Japanese were too quick to follow a fad and just as quick to drop it.
Sugimoto began by securing steady profits by providing information to corporate IR officials about the buying and selling habits of institutional investors.
After a year, Sugimoto started the online service IR-navi in 2005, providing corporate clients with information on institutional investors, helping clients' IR-related, planning or public relations departments improve their corporate value while trying to invite more money from global investors who recently have had a stronger appetite for Asian stocks.
The clients obtain passwords and identification numbers to access the investor information and pay ¥2 million to ¥3 million per year for the information.
Currently, most of Investor Network's 230 corporate clients are listed on the first section of the Tokyo Stock Exchange, while others are on the second section or the Mothers market for startup companies.
Investor Networks is now planning to provide information more actively by e-mailing tailored information that is useful for investors.
Sugimoto said he found a business opportunity in IR information services because brokerages, which used to offer similar services to clients for free, are not able to do so anymore because their main brokerage and underwriter fees are not profitable enough to offset free services.
Part of the revenue from IR-navi is spent to enhance the business of providing information services for individual investors, called "kabu-navi" (stock navigation).
On the kabu-navi Web site, people log in and can see information on various companies, which in turn pay advertising fees, providing a revenue source for Investor Networks.
Investor Networks plans to conduct more detailed marketing by collecting information on investor characteristics through online surveys, including family size, household revenues, whether they own a vehicle and how many times they dine out a month.
In the meantime, Sugimoto said the firm also aims at more interactive communications with its individual clients by letting them articulate what information they need.
The company plans to whet their appetite by involving them in stock investment simulation games that are remarkably close to actual selling and buying.
But the business environment has been tough, especially since the global economy was hit hard by the financial meltdown triggered by the failure of U.S. investment bank Lehman Brothers.
Investor Networks revised downward its sales forecast for this business year to December to ¥650 million from the previously estimated ¥700 million. Sales for 2008 were ¥543 million and they stood at ¥550 million for 2009, the company said.
The recent economic sluggishness has prompted corporate clients to ask for discounted services.
Sugimoto said it aims to increase its corporate clients to 300 firms from the current 230 for the next year with IR-navi, which is being renovated and will be completed in October or November.
This series has been prepared in collaboration with Enjin Co., which produces and operates a video Web site, kenja.tv, specializing in profiles of up-and-coming Japanese entrepreneurs.
---