Learn what it takes to have a successful future from these company leaders in our new series.
Kase brings Thai herbal ball therapy to the masses
Yumiko Kase, CEO of Asia Herb Association, is a prominent figure in the Thai business world. Operating four exclusive spas in midtown Bangkok and another in Chang Mai, she recently opened her sixth on Yakushima, a World Heritage site, in Japan.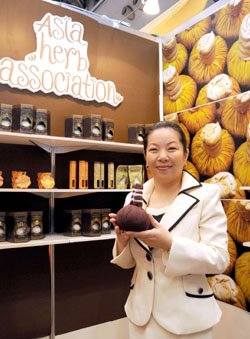 In 1999, Kase was on a research trip to the tropical rain forests of Thailand. Just as she was planning to return to Japan, however, her back gave out.
"I guess it was down to too much walking with heavy luggage," she said in a recent interview. "I was hospitalized for three weeks without much improvement. Then somebody introduced me to herbal ball therapy, a traditional form of Thai medicine."
With a 2,500-year history, herbal ball therapy was originally created by fusing Indian and Chinese herbal medicines. But unlike those two disciplines, which can be studied using numerous written texts, Thai medicine is scantily documented because Thais have passed down information about their original massage techniques verbally.
"After my backache was completely cured by herbal ball treatment, I became curious to learn more about it. How was it made? What were the ingredients?" Kase said.
This desire for knowledge was the basis for multiple trips between Japan and Thailand.
"I visited farms and rural areas in pursuit of herbs and herbal ball-related information," Kase said. Eventually, she discovered that her trips to Thailand weren't long enough for her research purposes, and she decided to relocate from Japan.
"I'd been thinking about studying for a year or so, and then returning to Japan to introduce the wonderful herbs and herbal ball treatment to Japanese," she recalled.
One day, the owner of a small spa that Kase had been frequenting for treatment approached her with an offer.
"I'm going to shut up shop, so why don't you hire my therapists?" the owner asked her. This prompted Kase to start up her own business in a foreign country.
She found a two-story house to serve as both domicile and clinic, but financially it was tough going at first.
"I handed out fliers in English and Japanese for about six months without a single customer," she recalls.
Whereas others might have given up, Kase's firm belief in herbal ball therapy, coupled with her happy-go-lucky attitude, kept her spirits up.
"(In Thailand), people lie back, let things happen, and shrug them off. Japanese don't tend to do that. We tend to be overly serious."
Kase fondly recalls an incident that inspired her to keep going: "One day, a woman dropped by for treatment. After it was over, she thanked me profusely, telling me how good she felt, and made a fresh appointment. Apparently, she'd been suffering from numb fingers after a traffic accident. Tears rolled down my cheeks as I saw her off, and I was so glad I hadn't given up."
Eventually, Kase's business picked up, allowing her to open several shops along the wealthy Sukhumvit Road.
Kase got a rude awakening after a customer got a skin rash following treatment. "I discovered there was pesticide residue in the herbs I was using," she said. "So I went directly to the farmers and asked them not to use any pesticides or chemicals for the herbs I intended to buy. It was a win-win situation: The farmers were assured a good price, and I was guaranteed safe herbs."
Today, Kase works closely with Kasetsart University, a leader in organic research that encourages farmers to go organic.
Today, all her products are produced at her organic farm located at the foot of the Khao Yai Mountains. Her current product lineup includes herbal ball items, aromatic oils, jojoba oil, extra-virgin olive oil and biodegradable handmade soap.
"Things that come into direct contact with the skin should be as safe as the food we eat," she said. "My wish is to deliver safe products for both the body and the environment."
She originally started her business on her own but currently her five spas in Thailand employ a total of around 200 staff.
There are myriad spas operating in Bangkok, but what makes Kase's operations different is that as a Japanese who is also fluent in English, she can communicate well with Japanese customers as well as many Western patrons.
Her fine organic products also make her brand stand out among her competitors.
In opening her first shop in Japan, Kase chose the relatively remote area of Yakushima in Kagoshima Prefecture.
"I received many offers from big cities like Tokyo and Osaka. But Yakushima was very appealing to me. In Yakushima, you can feel the weight of history when contemplating the almost 3,000-year-old Jomon cedars. The insignificance of man and the power of mother nature seemed to offer great meaning to setting up my first shop here," she said.
In Thailand, being a therapist isn't a very well-respected occupation.
"Many therapists are from poor rural families and are often divorced with kids back home," she said. "Many dropped out of school before completing their compulsory education. I want to change that situation by starting up a school that's free of charge, where therapists can learn not only traditional Thai massage skills but professional manners and language skills, too. I hope the skills and knowledge they acquire will help them nurture a sense of pride and esteem in being a therapist.
"Therapy is very rewarding work," she said. "If well-educated, refined therapists from my school want to work at the Asia Herb Association, I'll happily employ them. My hope is that my therapists will eventually be able to run the shops by themselves. The next step would then be to introduce my company's business, store and products to ASEAN countries. Backed by 2,500 years of history, I firmly believe that Thai massage has the potential to thrive in other Asian countries, and eventually go global. I want to bridge Thailand with Japan and the world. I think that's my destiny."
This series has been prepared in collaboration with Enjin Co., which produces and operates a video Web site, kenja.tv, specializing in profiles of up-and-coming Japanese entrepreneurs.
---