Learn what it takes to have a successful future from these company leaders in our new series.
Info tech engineer dispatch firm has alfresco feel
When Zeeboon Co. President Toshiyuki Goto moved his company in April, he made the new office look like a fancy Italian restaurant with a wall of plants, medieval European tables and a roof-top terrace big enough to host a barbecue.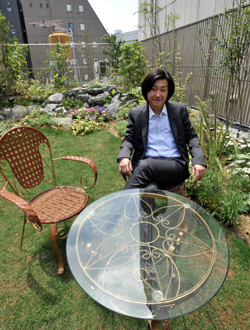 The unique office on the sixth and seventh floors of a seven-story building in Chiyoda Ward, Tokyo, helps his business, which deploys information technology engineers to various companies, he said.
"When we are in competition with rivals to win potential customers, the difference between us and the rivals is normally not so big, so a subtle difference often makes a big enough difference," Goto said, pointing out that the interior of the office can have a real impact on potential customers.
"Also, my employees see this office and think, 'Ah, the president can do what seems impossible.' That makes them think nothing is impossible," he said.
An interior design company quoted him a huge price for decorating the new office, so he decided to save his money and design the office himself.
Zeeboon, which he founded July 7, 2006, provides various computer system services, including server maintenance and Web site operations, mainly by dispatching IT employees to clients looking to improve efficiency and lower costs. His company has 30 full-time employees and 20 contractors.
While large companies are currently the company's main sources of revenue, Goto never underestimates potential demand from small companies.
"Small companies know that a blog created by a housewife can beat a portal Web site created by a big corporation with hundreds of millions of yen. But still, very few small companies know what to do," he said.
Collecting resumes isn't difficult for Zeeboon because there are more job seekers than openings. But Goto said his clients appreciate people who have good social skills rather than good IT skills.
"For many years, engineers haven't been trying improve their communications skills. For that reason, the theory of '40-plus' system engineers (who will be unable to find jobs) has become a reality," Goto said.
"Those who have lost jobs where they were making more than ¥10 million a year at large IT companies come to me for interviews. But they tend to lack human skills because they never had to have them."
His company is trying to strengthen its deployment of senior engineers, he said.
Goto, 42, was born and raised in the "shitamachi" (downtown) district of eastern Tokyo and dreamed of becoming a "manga" comic book writer. He eventually ended up attending Toyo University at night and working at a factory during the day.
"I had eight years of work experience before graduating from university," he said. "That, I think, made a big difference compared with ordinary people of my age at that time."
After graduating, he worked for seven years at an event-coordinating company. When his managing director decided to split with the president, he went along and helped him set up a new event-planning company and began working there.
But a void grew between them and he decided to quit after just a year and a half.
He wanted to be interviewed by about 100 companies because he wanted to see as many as possible. The IT industry is one of the few he didn't get a job offer from.
"IT companies were hiring only experienced people then," he said.
It was around 2000, the height of the technology bubble.
But he was lucky to have met an IT service company president who was a director of a baseball circle he belonged to.
"The president told me that he would hire me if I can do sales and that I didn't need an IT skill," he said. He joined the company and became the top salesman in six months.
He quit three years later to become a contract salesman for two years before founding Zeeboon. Goto now holds 70 percent of Zeeboon, with the shareholding association of Zeeboon employees holding 20 percent and the baseball director's company 10 percent.
Zeeboon logged ¥300 million sales in 2009. Profit figures were not available.
Goto said he works so employees can realize their dreams by working for him. His company has a unique schedule.
Work hours are divided into three sessions. The first is to do work that brings the company immediate income. Employees go out to work for their clients and return to Zeeboon at around 6:30 p.m.
The second session, from 7 to 10 p.m., is to work for the company's future. Employees can hold meetings to discuss how to improve their jobs and the company. They can also perform personal tasks if they want but must be in the office.
The third session, which starts at 10 p.m., is for communications. This time is typically spent chatting, eating and drinking.
Employees are not required to attend the second and third sessions every day, but they must attend at least 30 hours in the second session each month. Goto said they are paid overtime for such work.
Goto doesn't have a fixed schedule, but he appears at the office five days a week and spends the remaining two days, which are not necessarily Saturdays and Sundays, at home to brainstorm.
He has learned from experience that top-down decision-making is most effective in the early phase of a venture company.
"A president's job is to come up with an idea and a direction the company takes," he said. "Many people can do good jobs following an idea given by their superiors."
This series has been prepared in collaboration with Enjin Co., which produces and operates a video Web site, kenja.tv, specializing in profiles of up-and-coming Japanese entrepreneurs.
---