Learn what it takes to have a successful future from these company leaders in our new series.
Trilingual Japan Ltd.: Jack of all translation trades
By HIROKO NAKATA
Staff writer
Unlike myriad small companies jostling with each other in the translation service business, Trilingual Japan Ltd. is unique in terms of the number of languages it can handle.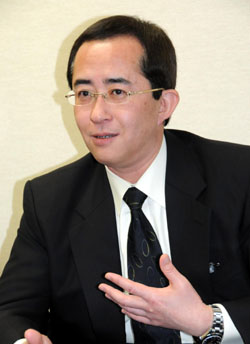 Trilingual Japan is able to provide translation services in more than 40 languages, but what really makes this company stand out head and shoulders above the rest is the wide range of industries it serves.
"When I started up this company, I wanted to create an all-around translation service firm, like a general hospital handling all kinds of fields from internal medicine to gynecology," President Tatsuharu Hioki said in a recent interview. "I still have that goal."
Hioki believes it is important for a translation company to be able to serve numerous industries in modern times, especially these days when various business sectors are interlinked.
For example, Hioki said, pharmaceutical makers may need translation work pertaining to the use of machines and electronics equipment, while other activities may focus on legal matters, such as drafting business contracts and applying for patents.
The market for translation services in Japan is believed to be worth up to ¥1 trillion.
There are a number of small translation companies employing one or two people that offer services in a limited number of languages. At the same time, however, there are only "a handful" of large companies with more than 100 workers on their books, Hioki said.
"There is no big-capital company in the industry because this service is provided by people, so mass production is not available," he said.
Trilingual Japan, which now has about 20 employees, is neither tiny nor huge. While demand for English translation is high, the company is able to provide translation services in German, French and Spanish, as well as Chinese, Korean, Thai, Vietnamese, Malay and Mongolian, not to mention Arabic, Tamil and Swahili.
The wide range of languages provided by Trilingual Japan allowed the company to secure business orders from a number of government agencies, including the Justice Ministry and the Ministry of Health, Labor and Welfare, Hioki said.
"We have been able to conduct business with almost every ministry since winning their confidence. In the past, the quality of translation services for the public sector was not very high," he said.
The pharmaceutical industry accounts for the lion's share of translation services in the industrial sector — about 25 percent of the company's overall sales, Hioki said.
Trilingual Japan has a list of about 150 registered translators who currently hold licenses as a doctor or pharmacist, vocational background in the drug industry or more than five years' experience translating documents related to pharmaceuticals. These employees translate outlines and reports of new drug tests, medical theses, documents related to biotechnology and generic engineering.
Hioki said the pharmaceutical sector is largely immune from economic downturn, unlike semiconductors, thus translation efforts pertaining to drugs have surpassed those for chips.
The chip industry, which flourished in the late 1980s, used to be Trilingual's core industry. However, business dried up in the 1990s as Taiwanese and South Korean firms thrived.
Trilingual Japan also offers translation services for businesses involved in computers, electronics, atomic energy, finance, trade, securities, as well as legal documents.
When Hioki started the company in 1989, its business scale was much smaller and its capital amounted to a paltry ¥4 million.
The president was the only one who managed the business on a day-to-day basis and only a few dozen translators were registered on the books.
After expanding Trilingual Japan's range of translation services, the company is now worth ¥10 million, Hioki said. The pool of translators has grown to more than 1,000, with another 100 interpreters listed.
Likewise, the company struggled to make a profit in the first few years of operation. The company generated a ¥1 million profit in the business year to March, 2009, on sales worth ¥240 million to ¥250 million.
"My goal is to increase sales to ¥1 billion in the next three years or so," Hioki said.
Once the company's annual sales top ¥500 million, Hioki said he will think about listing the company's shares on the stock exchange. The launch of the company was "an accident," he said.
After graduating from law school, he started working at a global association for translators because he thought he needed to get some practical business experience in order to go back to law school and further his studies.
During his time at the association, Hioki was responsible for training translators as well as sales. He met a number of senior translators on the job, who would later form an integral part of his network of translators.
He then joined a trading company handling semiconductor-related machines to help its translation services before starting up his own company, he said.
About 10 years ago, operations at Trilingual Japan stagnated and sales slipped a few times before totaling close to ¥300 million. At the same time, the moral of the company was low because several workers lacked motivation, which spilled over to affect other employees.
Hioki was forced to make staff cuts, which was tough to do in a country where harmony and cooperation are valued.
"I took . . . a chance and let seven to eight people leave the company," Hioki said. The number of employees has since settled at around 25, he said.
When asked to describe his future goal, Hioki said, "I would like to aim at the top of the industry."
This series has been prepared in collaboration with Enjin Co., which produces and operates a video Web site, kenja.tv, specializing in profiles of up-and-coming Japanese entrepreneurs.
---