Learn what it takes to have a successful future from these company leaders in our new series.
Local focus lets firm control total business stream
By MICHIRU MEKATA
Contributing writer
Yoshitake Shibusawa, president of Toho Real Estate Co., presented a business card stating his title as president of Toho Motors, a car dealership.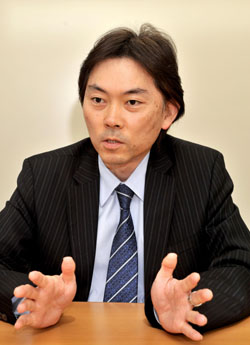 "Either way, it's OK. I manage all the companies," he said.
The reverse of the business card lists him as the head of the six-company Toho Group, involved in various business areas, including information technology and cargo transportation.
The Toho Group originally began as a single entity selling cars.
"My father, the current chairman, started it in the 1950s. He thought running his own business would be more interesting than working under someone as a doctor, which he originally was qualified to be," Shibusawa says. "He went to the U.S. back in those days to study how the auto business worked, especially the auto insurance and tax system, and became one of the first men in Japan to establish an efficient auto trading framework."
As a result, his father, Zenshichi, was a business pioneer well before the concept of "entrepreneur" even existed in Japan.
In 1982, Toho ventured into real estate.
"You may wonder why we went into a completely different business area, but auto sales and real estate are in fact quite similar in terms of taxation, rights and business features," Shibusawa says.
"In our case, we limit our operations to Ota Ward in Tokyo. This means that whether car or land sales, our relationship with our customers is not one-time. Instead, we retain a long-term relationship extending for many years, starting from sales to resale," he says.
Recently, property deals have included underground and rooftop space. A flat piece of land with a structure sitting on it is becoming a thing of the past.
"Real estate transactions today have thus become something about the efficient use and management of the owners' immovable assets," Shibusawa says. "That is why I have all my employees study accounting. They must be able to read the profit-loss statements and balance sheets. They have to be bright about figures. Without those abilities, they cannot give appropriate financial or tax-related advice to the landowners who are the actual decision makers of the household economy."
Shibusawa can afford to train his employees in accounting "because we are making a profit," he says.
"Ota Ward is one of the very few places in Japan where population growth exceeds the 100 percentile figure each year. More people mean more demand generated for everything, including real estate," he says.
Originally a manufacturing neighborhood where many small factories operated, Ota Ward has become a livable area where the population does not fluctuate so much from commuting workers.
"Now those factories are quickly being turned into food processing plants and warehouses for chilled air cargo landing at Haneda airport (also in Ota Ward). They are then repackaged and redistributed, mainly throughout Tokyo and Yokohama," Shibusawa says.
The amount of such air cargo continues to rise, especially from Asia.
"Hence, the Chinese, Korean and Indian population who work and live in Ota Ward is sharply increasing," he says.
"There also is a noticeable inflow of the domestic population seeking work at those factories. Many are from Kyushu taking up work as security guards and so on. For them, frequent Kyushu-Tokyo direct flights offer better access to Tokyo than to Osaka, though the distance to Osaka is much closer for them than to Tokyo," he adds.
The flow of people and goods to and from Ota Ward is going to continue rising, as Land, Infrastructure, Transport and Tourism Minister Seiji Maehara is openly showing the government's enthusiasm to increase the number of international routes at Haneda.
In addition, IT is contributing to the rising real estate demand in the area.
"Before, the area was characterized as the place for blue-collar workers and young couples in their 20s to 30s just starting their families. Their income levels and life values were quite different from the older generation and office workers. But IT has changed all that. With the click of the mouse, anybody from anywhere can access real estate information. Consequently, we are seeing people from the more upscale Nerima and Suginami wards buying land and moving to Ota Ward," Shibusawa says.
"IT is a powerful and meaningful tool for management. It helps to make our businesses profitable, which is why I established a separate IT company to sell our high-quality management software. But you must be careful to always have full control over it. We shouldn't be captured or enslaved by the world of zeros and ones," says Shibusawa, who has a degree in management engineering.
He says that another point that makes the Toho Group's operations fruitful is their involvement in the entire business flow from upstream to downstream.
"We don't outsource. Retaining everything within, we can accumulate all the knowhow while maintaining profits here and there," he says. "If we only concentrate in a specific area, we would kill ourselves if something goes wrong."
In the case of the car dealership, full upstream-to-downstream involvement starts from sales down to repairs.
For real estate, "it's like a two-time harvest of farmland," he says. "There may be a large piece of flat land where a factory is operating alongside many others. That factory could become outdated and out of place as others move out. It would no longer be a welcome existence in the neighborhood. The first harvest season for that land would be over. That is when we come in and persuade the only remaining factory to sell its plot of land at a good price. They would move out and relocate elsewhere. We then clean up the land, including remaining pollutants, if any. Finally, we revive and reuse the property as residential land, for example. In such a way, we give a hand to the land use change, the second harvest so to speak. I observe such change in land use occurring together with the times the society and the economy changes, probably every 30 years or so."
Retaining the knowhow and gaining stable profits, Shibusawa is keen to pass on his unique company management style.
"I'm really spending heavily to convey my corporate management DNA to my staff. We hold regular weekly meetings and each employee is requested to prepare the minutes the same day. I let the person go over it and rewrite it the next day. He or she then reports it at the following week's meeting. I call this a three-time learning process," Shibusawa says.
"In the beginning, it was a disaster. Nobody could prepare the minutes or report it properly. They were skeptical about doing such a thing. Now they are picking it up and learning. The entire process is interesting. It's exciting. It's like bringing up children," he says.
As Shibusawa believes that learning can take place in any location, he even holds such staff meetings at pubs.
"Desktop knowledge is not perfect. Interviews upon hiring do not tell you how much that person can really grow and be successful in actual work. I try to be fair in the judgment of my employees' business results. I also am careful to provide a job site that is open. I seek to offer meaningful and worthwhile opportunities for all. That's what the Toho Group is all about."
This series has been prepared in collaboration with Enjin Co., which produces and operates a video Web site, kenja.tv, specializing in profiles of up-and-coming Japanese entrepreneurs.
---