Learn what it takes to have a successful future from these company leaders in our new series.
Niche firm skips Tokyo, sets up shop in Nagoya
By YVONNE CHANG
Contributing writer
Foreign companies seeking to enter the Japanese market typically start off in Tokyo, where the central government and key businesses are headquartered.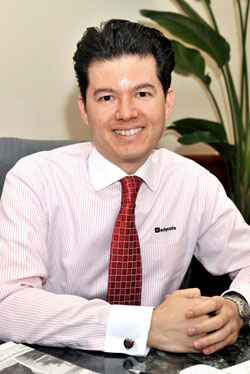 But when U.K.-based heat treatment service provider Bodycote PLC decided to enter the market in 2008, the company chose to set up its headquarters in Nagoya.
Spearheading the endeavor is Julian Bashore, representative director of Bodycote Japan K.K., who knows his way around Nagoya, the heart of Japan's manufacturing industry.
Prior to joining Bodycote in 2008, the 38-year-old executive spent 13 years at PPG Industries Inc., a U.S. manufacturer of coatings, glass and chemical products. Of those 13 years, he spent nine at PPG's Japan subsidiary in Nagoya.
"So actually, I've only worked in the U.S. for three years and most of my career was spent in Japan, mainly in Nagoya," he says.
The Chubu region, including Nagoya, has the greatest concentration of manufacturing industries in Japan, with more than five times the manufacturing output of Tokyo, according to official statistics.
While there are several foreign-capital companies headquartered in the region, the number is still small compared with Tokyo or Osaka. Of the more than 3,300 foreign-affiliated companies that have entered Japan, only about 60 are headquartered in Nagoya and its vicinity.
But given Bodycote's field of expertise, setting up headquarters in Nagoya was an obvious choice. Bodycote's thermal processing services cater to a wide range of industries, from automotive and aerospace to medical and transportation, because such heat treatments are a vital part of any manufacturing process.
With Nagoya near the home of Toyota, one would assume the automotive industry to be Bodycote's main client. But in fact its main customers come from the aerospace industry, mostly suppliers who provide parts for Boeing, also a major client of Bodycote, Bashore says.
The fact that Bodycote has yet to set up a factory in Japan also accounts for the company's focus on aerospace parts suppliers here, rather than the automotive industry.
"Car parts manufacturers demand a very short delivery time of, say, a few days, but we can't provide such services yet. However, such speed is not required for aerospace parts makers, which is convenient for us now," Bashore says.
Currently, the processing is done in factories in the U.S. or Europe, as there are not many factories in Asia that have Nadcap approval. Nadcap, or the National Aerospace and Defense Contractors Accreditation Program, sets the global standards for aerospace engineering and related industries and gives accreditation for special processes in the aerospace industry, including chemical processing, coating and heat-treating.
In February, Bodycote's heat treatment facility in Wuxi became the first subcontract facility in China to gain Nadcap approval, and Bashore believes Bodycote will eventually be able to provide swifter services by processing in Asia. In the not so distant future, he also hopes to have Bodycote build a factory in the Chubu area.
Bodycote's competition in Japan numbers more than 400 small and medium-size companies, but there is no single company as large as Bodycote in Japan that specializes in metallurgical processing. Bashore's mission is to make the company's name and services known in the Japanese market.
In a significant move, Bashore managed to have Bodycote incorporated in a short time. Although Bodycote Japan is still a small team of about 10 people, he said it was a necessary move to establish the presence of Bodycote in Japan.
Bashore has also joined various Japanese industry associations and is the only foreigner in two of the local organizations.
There are not many similar industry associations in the U.S. and it was difficult for Bodycote's U.K. headquarters to understand the advantages of joining such organizations in Japan.
"It took some convincing," Bashore says.
The industry associations take up a lot of Bashore's time and his company's finances, much more so than similar industry groups in the U.S., but he believes it is worth the effort as the gatherings allow him to mingle with company executives and important industry figures.
Bashore did not meet any resistance from the local associations just because he was a foreigner, but he does wish to improve on the current associate membership status granted to Bodycote Japan.
"You need full membership to take full advantage of the associations' merits," he says.
Along with the domestic industry associations, he says the American Chamber of Commerce in Japan has helped him increase the company's presence. Bashore serves as the chair of membership relations at ACCJ Chubu and says his title has allowed him to meet people whom otherwise would not have been easy to access.
Japan is Bodycote's fifth base in Asia, following China, India, Singapore and Thailand. However, Bodycote's approach to the Japanese market was different from other countries, Bashore says.
When expanding into a new country, Bodycote would typically buy up existing factories and turn them into local Bodycote subsidiaries. Japan was a rare case where it started off with a sales liaison office.
With all eyes on China, fast turning into the world's manufacturing center, Bodycote's decision to enter the Japanese market at a time when the economy is suffering from a prolonged recession may appear to be a bad management decision to some. But Bashore says there is still great potential in the Japanese market.
"China is good for mass-produced products, but manufacturing of a wide variety of products in small quantities, like airplane parts, is much more cost-effective if made in Japan," he says.
"We all hear and talk about negative things and how business is not doing well, but there is still a lot of potential in the Japanese market if you go look for it."
Bashore's deep knowledge of Japan and the Japanese way of doing business is not only because of his years at PPG. He attended the Wharton School, the University of Pennsylvania's business school, where he studied Japanese language from his freshman year. Later, he participated in a program to study Japanese culture, economy and politics at the Stanford Japan Center in Kyoto.
After returning to the United States, Bashore looked for a job that would make use of his experience in Japan. As a business major, the trend at the time was to find jobs with financial institutions and work on Wall Street. Unlike his colleagues, Bashore landed a job at manufacturer PPG Industries. Also unlike his colleagues who went from one job to another, Bashore stayed at the same company for 13 years.
No doubt Nagoya is like a second hometown to him.
"I first came to Japan as a bachelor. Now I have a family here," says Bashore, who married a Nagoya resident and has a 1-year-old daughter.
This series has been prepared in collaboration with Enjin Co., which produces and operates a video Web site, kenja.tv, specializing in profiles of up-and-coming business executives in Japan.
---