Learn what it takes to have a successful future from these company leaders in our new series.
Trucker finds his winding road to success
By MICHIRU MEKATA
Contributing writer
When Ohshima Industry Co. of Munakata, Fukuoka Prefecture, started up in 1973, the small company built roads and bridges based on orders from the city and administrative sectors.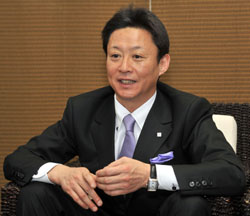 But with public works projects, only 30 percent to 40 percent of payments are made in advance. Moreover, all work came to a complete standstill when it rained.
Hence, current President Yasutomo Oshima says he "branched out into the logistics area around 10 years ago to keep the business going throughout the year, unaffected by weather." Today, 80 percent of Ohshima's business is logistics and 20 percent construction. Every day, its 80 heavy-duty trucks travel the highways of the entire country delivering cargo.
That in itself is nothing unusual. However, what is unique is that Oshima's trucks carry the cargo of all the major freight companies, including longtime archrivals such as Yamato, Sagawa, Nippon Express and Japan Post.
"Tying up with a single company is dangerous because if something goes wrong with that company, you lose everything," Oshima says.
Doing business with all of those competitors was not an easy task. Nevertheless, Oshima laughingly says, "Oh, I know people!"
Costing around ¥20 million, each Ohshima truck is equipped with the latest GPS system, which shows all possible routes, including alternatives in case of accidents and hazards. Though the trucks are standardized, Oshima allows a bit of creativity by letting each driver select the license plate.
"He could give it a special meaning by choosing, say, his wife's birthday. In that way, each driver's love for his own vehicle is strengthened. He will attend to his vehicle with care and keep it clean. Without love, they wouldn't care. If they didn't care, they wouldn't handle their cargo carefully, either," he notes.
License plates with a special meaning also work in case of hazards.
"Sure, I get angry when our trucks get smashed up in an accident. But when I look at the twisted number plate, I can tell the driver, 'You're lucky. The truck probably took the disaster in place of your wife.' Then my temper can cool down, too," Oshima says.
That is a traditional Japanese way of thinking that leads to Bushido.
"Technology is important, but retaining a good mind and spirit is equally important. Fusing the latest technology with a warm Japanese mentality is the key," Oshima says.
But undoubtedly, today's Japanese business climate must be discouraging.
"To me, the greatest issue is the unstable oil prices. It fluctuates too much in a short span. The Iraqi situation isn't helping. Environmental issues are pressing us to switch over to cleaner biofuels. We already have replaced 10 trucks because Osaka bans the entrance of air-polluting vehicles into its urban areas. . . . All those things are happening almost at once. Change is coming at an unprecedented speed."
Oshima is especially angry that "Japanese politicians today have forgotten that politics is life. They should be thinking of the real lives of people. Many are second- or third-generation politicians with exceptional schooling and a lot of family money. They have textbook knowledge but lack real-life wisdom."
He hopes the government builds an environment where people can work freely. Furthermore, he wants laws to be reviewed to give better tax exemptions for small businesses "because 90 percent of all businesses in Japan are mid- to small-size enterprises. They literally support the economy of Japan. Overtaxing them each year just kills them."
On top of that, Oshima is quite critical about the mentality of Japanese people themselves.
"I think they have become so dependent. They act like big babies. If they really wanted to work, there are plenty of jobs around. Look at the cashiers of the convenience stores. Go to the Japanese pubs. People serving you at those places nowadays are all hardworking Chinese," he points out.
Steering a company on such an uneven socioeconomic footing must be exceptionally difficult. Oshima admits that his business is constantly in a battle against risks.
"Of course, there are moments when I make mistakes. When I do, I reflect and self-examine. But I never regret. Because you'll meet your end right there if you start pitying yourself. What I decide, I put into action. My way of living is all or nothing, 100 percent versus zero. But in a battle, I try to win even by 51 against 49. Winning by a small margin is still a victory. If you try winning by 80 or 90 against 20 or 10, you'll be stepping on the toes of many people. You'll build so much ill will and hatred against you. That's unwise. That is my way of thinking. And that's why our company won't win big but won't lose. We don't earn a lot but we're not in the red. We're not strong but we're not weak. We survive."
The way Oshima observes the character of each driver is also of note. "I occasionally have them cook ramen in a pot. Some make it plain. Others add vegetables and meat for nutrition. Those who clean up neatly after cooking and eating are equally neat in their work. One guy dumps the dry noodles in cold water, but cooks quickly and nicely. I don't know how he does it, but he somehow seems to have the skill. And you know what? He happens to be our company's No. 2 driver," says Oshima.
There is another driver Oshima is very proud of. "His driving is smooth as silk. He has had no accidents over the five years he has worked for me and he has always had a gold license for being a model driver. But this man is a deaf-mute. He can't hear. He can't speak. He took the driver's license exam more than 60 times. He was absolutely determined to get one because his girlfriend lived far away and he needed a car to see her. Now he's happily married to that girlfriend and has two children."
The man's efforts have paid off in other ways. Today, all the Ohshima drivers love having a chat with him through sign language, writing and even verbal communication that the man is recently able to lip-read, says Oshima affectionately.
Another touching episode is that Oshima recently started a scholarship for children affected by traffic accidents.
"Single-parent children that have lost their fathers are often hit hard financially. I want to help them go through school by funding them," he explains. Having completed the support for one child, he is assisting a second.
"In the future, I hope one of those children will come up to me and say, 'Thank you for all your help. I was able to go to school because of you. Now I would like to pay you back by working for you and your company, to make the world a better place.' That's my dream," he says.
"An owner-president of a company is apt to continue working until the last minute. I would be more than happy to pass the steering wheel of my company over to such a child when the time comes and then I can retire happily."
This series has been prepared in collaboration with Enjin Co., which produces and operates a video Web site, kenja.tv, specializing in profiles of up-and-coming Japanese entrepreneurs.
---