Learn what it takes to have a successful future from these company leaders in our new series.
Boss guides Japan Pail to top of domestic bucket list
By MICHIRU MEKATA
Contributing writer
Sealed metal drums with handles aren't most people's idea of sexy products. But pails are vital nonetheless.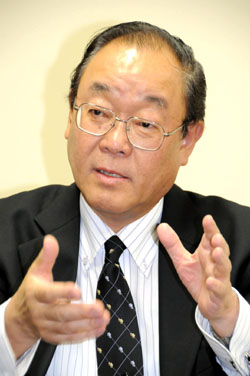 Because they are sometimes used to carry environmentally hazardous materials such as engine oil and chemicals, "they must be absolutely airtight and leakproof," said Masamichi Nogami, president of Osaka-based Japan Pail Corp., which sells roughly half the country's pails.
Japan Pail was born from the merger of three firms in 2004. It is a wholly owned subsidiary of major trading house Nissho Iwai and brings together the former bucket divisions of Daido Metal Works Co. and JFE Container Co.
Today, Japan Pail leads the industry, which has an annual output of 22 million to 23 million cans. The firm is 40 percent owned by Metal One Corp., a steel trading company, and 30 percent each by Japan's largest steel maker, Nippon Steel Corp., and JFE Container. Metal One is an integrated steel-trading company, established in January 2003 through the merger of the steel product business divisions of Mitsubishi Corp. and Nissho Iwai Corp. (now Sojitz Corp. after its merger with trading house Nichimen).
Nogami, a native of Nagasaki Prefecture, joined Nissho Iwai in 1973 after graduating with an economics degree from Shiga University and built his career as an expert in the steel product trade.
During his days with Nissho Iwai, Nogami witnessed the shakeup in both the steel and general trading industries.
In the early 2000s, Nissho Iwai was plunged into a management crisis, leading to the merger in April 2004 with Nichimen, another troubled trading house.
"Those years were exceptionally tough and demanding. I worked with hardly any sleep. I took only 10 days off in the last 1,000 days with my former employer, which was finally liquidated," Nogami recalled, adding that the hardship of those days helps him manage Japan Pail better.
In summer 2002, Nogami was transferred to Nissho Iwai subsidiary Unicon. There, he played a leading role in setting up Japan Pail and became president of the new firm in January 2005.
But the challenges were just beginning. Nogami's next task was to integrate the three distinct companies into a single cohesive business.
"The working environment was different, the corporate culture was different and the salaries were different," Nogami said. "It ultimately took me five years to overcome the massive differences in the three companies."
The merger was completed on Jan. 1 with the merger of the company's three predecessor unions into the Japan Pail Labor Union.
"This was a big achievement and a touching moment for me. It was the reward for all the hard work I had done so far to build a common, shared working environment among the three very different parties," said Nogami.
In the fiscal year that ended last March, Japan Pail logged annual sales of ¥6.4 billion and pretax profit of around ¥100 million. The firm has seen pretax profit in all five years of its existence. For the current business year ending this month, Japan Pail is expected to see sales reach ¥6.5 billion and ensure another pretax profit.
With the country's economic slowdown and global recession, Japan Pail's output is estimated to have declined 10 percent year-on-year to 9.6 million units in the 2009 business year. Nonetheless, the firm holds about a 45 percent share of the roughly 22 million can market.
Nogami seems bullish on his company's prospects for the next fiscal year, predicting a 7 percent rise in production to more than 10 million units. To meet the expected increase, he plans to boost the firm's capital investment to ¥260 million, up from ¥150 million in 2009, in order to improve productivity and product quality.
But when it comes to the longer-term prospects for pails, Nogami is less optimistic.
"Domestic demand for pail cans in general has been slipping since peaking in 1990," he says.
That downturn owes to the hollowing out of the primary industries in Japan, as many companies shift production offshore or buy from other parts of Asia offering cheap labor. A shift from steel buckets to paper or plastic containers is also putting downward pressure on demand.
But Nogami isn't sitting still in the face of these challenges. Japan Pail has designs on rapidly growing China.
"Another area I am currently stressing is the development of high-performance and high-quality pail cans. These high value-added pail cans are used to contain cleaning fluids for semiconductors and other precision instruments that must be absolutely pure and clean," he says.
In the future, Nogami hopes to fully automate Japan Pail's production line, with robots taking care of the manufacture of common products.
"In that way, human beings can concentrate on the production of more sophisticated products that require attention to intricate details."
That naturally leads Nogami to emphasize training.
"I position people at the center of my management philosophy. My workers are the key to achieving higher skills, outstanding teamwork and superb quality of our products. That is why training is constantly provided to our young and midlevel employees," he notes.
Although the economy's doldrums are a drag on growth, they have an upside, Nogami said, "allowing us to recruit extremely brilliant students and midcareer people."
Japan Pail looks set to keep playing the cards it holds with skill.
This series has been prepared in collaboration with Enjin Co., which produces and operates a video Web site, kenja.tv, specializing in profiles of up-and-coming Japanese entrepreneurs.
---