Learn what it takes to have a successful future from these company leaders in our new series.
Entrepreneur fosters others via consultancy
By MINORU MATSUTANI
Staff writer
Couleur Hldgs President Kentaro Matsuda has always had a nose for business.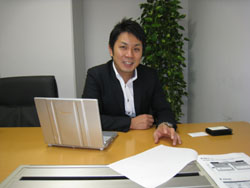 The 31-year-old from Kagoshima Prefecture, whose company provides online support to retailers and other companies, grew up watching his entrepreneur father, who ran a real estate business and other endeavors.
"When I was an elementary school student, I saw my father working and thought he was cool," Matsuda said.
Inspired by the lyrics of singer-songwriter Tsuyoshi Nagabuchi's "Tombo" ("Dragonfly"), which say, "Carrying a thin bag I went north," he came to Tokyo right out of high school, not for college but in search of opportunity. But in three short months he realized that the doors to business remain closed to people lacking a college degree.
So in July 1997, Matsuda began studying to enter Aoyama Gakuin University in Tokyo, qualifying in April 1998.
But unlike many of his classmates, Matsuda wasn't looking to become a salaryman at a big corporation. Instead, he chose to let his interest in surfing set his career in motion. He realized leather bracelets were popular with surfers in Hawaii and set up a company with three partners to import them in July 1998.
"The bracelet business turned out to be a big hit. I couldn't concentrate on studying because I was so busy," said Matsuda, who dropped out of college in March 1999.
But Matsuda's bracelet business soon ran out of steam and he was forced to close in June 2001.
Undaunted, Matsuda started working for Venture Link Co., which helps retailers expand their franchisee network, the following month.
His time at Venture Link showed him how to manage companies, he said, but Matsuda wanted to learn how to sell. So in July 2004 he moved to Livedoor Marketing, a subsidiary of Livedoor, then headed by Takafumi Horie.
In November 2007, he left Livedoor Marketing and founded VMadvisors Inc., which helps retailers boost sales via the Internet, exactly same thing as he did at Livedoor Marketing. But in its first year, VMadvisors was restricted to consulting due to a noncompetition agreement Matsuda signed when he left Livedoor.
Matsuda went on to buy related businesses in order to expand VMadvisors. Couleur Hldgs was one such acquisition. But because Couleur, now 100 percent owned by Matsuda, was the bigger firm, he had to make it a holding company, he said.
Couleur Hldgs controls VMadvisors, Hamsa Partners Inc., Bump Co., DT Inc. and Archimedes Co.
Hamsa is an advertising agency. Bump is a call center and provides various support services to clients. DT develops computer systems and Archimedes offers mobile phone marketing services.
The business mix of these subsidiaries enables the group to provide a package of Internet marketing services to customers, mainly retailers. That is what sets Couleur apart from its rivals, Matsuda said.
"Our concept is revenue-sharing," Matsuda said. His company shoulders the cost of setting up systems, offering in exchange to share revenues with clients, who can start Internet marketing ventures at low cost because Couleur can provide hardware, Web site development and maintenance and other services, he said.
Couleur's clients include companies selling health supplements, cosmetics and other products, as well as professionals, including lawyers and accountants. Some 80 percent of his customers had tried to market their products and services online on their own but gave up because of poor results, he said.
Matsuda chose the revenue-sharing model because he liked the idea of helping entrepreneurs.
"My idea of being an entrepreneur is to do a business that makes enough profit to cover initial investments in six months or a year. I want to turn out as many entrepreneurs as possible," he said.
He is not planning to take Couleur, capitalized at ¥50 million, public anytime soon, although investment bankers have asked him to do so several times.
"I don't see the point of going public now. There is no major investment plan and the company's size is not that big," he said. Couleur posted sales of ¥1.5 billion in 2009, and Matsuda wants to raise that to ¥10 billion within four years.
"Now that the economy is not looking good, demand for outsourcers like us will be increasing. I want to grab that chance," he said.
Matsuda now seems to be enjoying success, but he sounded a cautious note, saying he has experienced failure and has seen businesses collapse. This makes him inclined to expand his company slowly.
"First, I closed down a (leather bracelet) company. Then I entered two good companies that later became chaotic," he said.
When he joined Venture Link, it was four months after the company listed on the first section of the Tokyo Stock Exchange, and the share price was going up rapidly, he said.
"Everybody in the company and the investors believed Venture Link would keep going, but it had an attitude that it had nothing to do with its customers after selling franchising rights. Not all franchisees kept doing well, customers complained and share prices tanked," he said.
Livedoor's failure, meanwhile, was due to unrealistic goals, Matsuda said. "Employees were exhausted and left the company. Customers left, too."
Matsuda remains ambitious for his firm, but he is also careful not to set too high a target.
"It's best if people see you have fun working and think you are cool," he said.
This series has been prepared in collaboration with Enjin Co., which produces and operates a video Web site, kenja.tv, specializing in profiles of up-and-coming Japanese entrepreneurs.
---