Learn what it takes to have a successful future from these company leaders in our new series.
Environmental startup helps firms clean up their act
By HIROKO NAKATA
Staff writer
Despite pressure on industries and households to reduce greenhouse gas emissions amid concerns over climate change, the fact carbon dioxide emissions are invisible makes the problem somewhat difficult for people to grasp.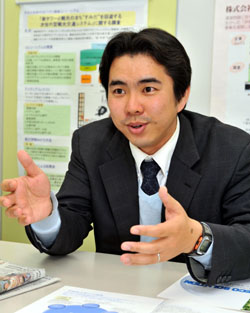 That is where Waseda Environmental Research Institute, a startup company launched in 2003, comes in. The company has attracted the attention of corporations that are required to slash their carbon emissions and of people who want to lead an environmentally friendly life.
"I always compare (carbon dioxide) reduction to weight control," said Hiroshi Onoda, president of Waseda Environmental Research, a company that grew out of a graduate school project at Waseda University.
"People on a diet step on a scale, set a target weight and try to reduce calories they take in," he said.
"But there is no such scale device to cut (carbon dioxide) emissions, even though there are growing calls for reduction across the world," Onoda, 31, told The Japan Times in a recent interview.
"We propose starting from what we can see and propose measures. If we understand how much we emit, we can understand what kinds of measures we need to take.
"To help clients analyze how many emissions they are currently making we provide a variety of tools to them," he said, adding the tools differ depending on where they are used.
One of the main services offered by the company is an energy monitoring system that helps corporate clients measure how much electricity is used by each device in an office, from air conditioners and printers to lights and computers.
"The clients can access the computer system via the Internet and check their electricity consumption," Onoda said.
About 10 corporate clients currently use the system, he added.
By showing the electricity consumption, Waseda Environmental Research can offer specific advice to help clients cut their electricity consumption and thus their carbon dioxide emissions. Such consultations are a major source of profit for the company, he said.
Another service the company offers is Shirokuma (polar bear) Land, a Web site that helps mainly households reduce their emissions.
So far, 3,865 people and 199 companies have registered on the site. The site is paid for with sponsorship fees from five entities.
Users log in and enter the appropriate data — how much electricity or gasoline they use each month, for example. If their power consumption is too high, a polar bear character, Pi-suke, flounders and wails angrily as his icy land melts.
When consumption is low, the bear smiles happily, surrounded by his penguin friends.
The company has other projects in the works, Onoda said, including joint development of a system that lets motorists see how much they can reduce their carbon dioxide emissions by using recycled parts when they take their cars in for repair.
The system, developed by Waseda Environmental Research and the Japan Automotive Parts Recyclers Association, helps raise awareness among both mechanics and drivers of the importance of cutting greenhouse gas emissions.
"As of the end of last year, a total of 85 companies scrapping used cars signed contracts to use the system, with which they can access data about (their carbon dioxide) emissions by logging onto the computer," Onoda said. The company generates revenue from monthly fees from clients.
These efforts have helped the company boost sales, which it expects to reach about ¥200 million for the business year through March, up from just ¥4 million in the company's first seven months of existence, from August 2003 to March 2004.
Onoda said his company is hoping for around ¥800 million in sales for the next business year to March 2011.
Onoda expects sales to continue rising over the near term because a revised energy efficiency law to be drafted in April would require Japanese corporations, including franchise operators, to follow stricter rules on emissions.
That would force companies and all their branches to work harder to limit emissions, he said, adding he expects they will need help doing so.
The company is forecasting more than ¥10 million in net profit for the business year to March, compared with a profit of ¥9 million for the previous year.
Onoda employs two employees, mainly for sales, and three part-timers, but he started the company on his own.
The business grew out of research on life-cycle assessment, or analysis of the environmental impact of a product from production to its use and disposal.
Prompted by strong demand from corporations looking to cut carbon dioxide emissions, Onoda, then a graduate student, and his academic adviser, Waseda University professor Katsuya Nagata, decided to set up the company with an initial investment of ¥250,000.
"Now the number of business offers (we get) increases by 10 every month," Onoda said.
This series has been prepared in collaboration with Enjin Co., which produces and operates a video Web site, kenja.tv, specializing in profiles of up-and-coming Japanese entrepreneurs.
---