Learn what it takes to have a successful future from these company leaders in our new series.
Unlocking the mind's positive power to cure bodily ills
By YVONNE CHANG
Contributing writer
Junko Ogihara underwent surgery for ovarian cysts when she was in her mid-30s and afterward suffered from various chronic ailments. Nothing she tried was effective until she realized she had to cure herself.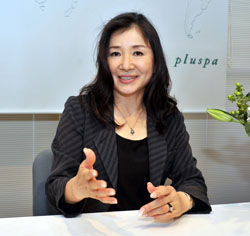 "I tried all sorts of therapies and treatments hoping to get better, but I couldn't be cured completely. Then I had this inspiration that I should try to cure myself on my own," Ogihara said.
That decision put her on the road to recovery and Ogihara wanted to share her experience with others, so she founded Pluspa Academy in 1990 to offer classes on relaxation exercises and techniques based on the idea that positive thinking can help people overcome the physical and mental problems they face.
Pluspa Academy offers a two-year program of lectures by Ogihara, combined with breathing and relaxation exercises that she devised during her battle with illness.
The academy's emphasis is on teaching participants "how to think positively." In the first year, participants learn basic meditation skills and yogalike exercises based on Ogihara's experiences and studies of psychoneuroimmunology.
Psychoneuroimmunology, or PNI, is the study of the interactions of the mind, the nervous system and the immune system. A relatively new field of study, the term was coined by Robert Ader and Nicholas Cohen in 1975. The two scholars, along with David Felten, coauthored the groundbreaking book, "Psychoneuroimmunology," in 1981, which theorized that the brain and the immune system are the body's integrated self-defense mechanism.
Ogihara's initial determination to become healthy through her own efforts stems from the traditional Asian belief that all illness comes from the mind and that a healthy mind is the key to a healthy body. While she developed her method of treatment, Ogihara's encounter with PNI helped ground her intuition in scientific principles.
"It's a very new approach to a very old concept," Ogihara said. "Western medicine goes back only about 150 years while humankind has existed for thousands of years. As one scholar has said, trying to explain the workings of the human body is the same as trying to unravel the mysteries of the universe."
Ogihara believes that to boost one's immune system, positive thinking is the quickest road to success. But positive thinking is easier said than done, Ogihara said.
"When people talk about positive thinking they think it's easy, like you just keep smiling. But it's not that simple," she said. "Positive thinking needs to be learned."
The first thing Ogihara teaches her clients is how to rid themselves of negative thoughts.
"For that, you need to be humble. The more you get to know yourself, the more humble you become. Pride only prevents you from becoming humble," Ogihara said.
Her office in Tokyo's Nakano district looks like the massage and therapy salons mushrooming all over the country. Aside from a fairly large space for seminars, the rooms are small, with beds for aromatherapy and other relaxation treatments that she and her staff of 14 offer.
But Ogihara explains these treatments, as well as the personal counseling she offers, are just an introduction to Pluspa Academy. Treatment salons were not as popular 20 years ago when Ogihara started her company and she recalls that people then associated her breathing and meditation techniques with cultlike practices.
To make it easier for those seeking help to knock on her door, Ogihara decided to offer aromatherapy and relaxation massages at her office. Since then, some 2,500 people, men and women, young and old, have received treatments at Pluspa, of which about 100 have stayed on to attend the academy. Ogihara doesn't actively promote her techniques through the media, so most of her clients and students have heard about Pluspa by word of mouth.
"I'm really not doing this for the sake of my business," she said.
She does, however, acknowledge that her courses are on the pricey side. The aromatherapy and relaxation treatments cost ¥7,000 to ¥10,000 an hour, comparable with other midrange salons in Tokyo. But the two-year course at the academy, including the entrance fee, costs close to ¥1.4 million.
"I realize the academy is not affordable for all," she said.
Upon completing the two-year course, graduates are certified Pluspists — experts on positive thinking. Ogihara established the Japan Pluspist Association when the term "pluspist" was registered as a trademark in August 2008.
Ogihara also offers advanced courses for graduates of the academy, where members continue to brush up on their skills. Graduates can also study Modesty Kung Fu, another of Ogihara's unique creations, which she says is not as strenuous as the traditional martial art.
"When you perform ordinary kung fu, you have a fierce look on your face and prepare yourself to attack people. But mine is different. Modesty Kung Fu consists of graceful movements. It's not strenuous, yet you sweat a lot," she said.
Pluspists do not necessarily open their own salons to spread the word.
"I only ask them to practice positive thinking in their daily lives, whether at work or in their private lives," she said.
In fact, Ogihara has no intention to branch out or move out of the salon she has spent 20 years refining. But she does want the general public to understand the concept of pluspist and the merits of positive thinking.
"Becoming ill is a sign that you need to better yourself," Ogihara said.
This series has been prepared in collaboration with Enjin Co., which produces and operates a video Web site, kenja.tv, specializing in profiles of up-and-coming Japanese entrepreneurs.
---