Learn what it takes to have a successful future from these company leaders in our new series.
Medical equipment importer puts patient needs first
By YVONNE CHANG
Contributing writer
The medical world is often viewed as very conservative and closed, and the equipment industry that supports it is no exception.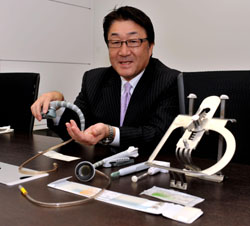 "It's a highly specialized field," said Masao Ichinoseki, president of medical equipment importer Vital Corp.
This need for specialized knowledge is one reason for the large number of small and medium-size companies in the industry, each with its own area of expertise.
"All of our employees need to go through a crash course in what medical students take six years to study," Ichinoseki said.
Vital specializes in cardiovascular equipment, including pacemakers and surgical instruments used by doctors during heart surgery. Ichinoseki had no background in medicine or engineering when he first entered the business. He gained that knowledge through his relationships with his clients: physicians.
"I was lucky to have met doctors willing to explain to a nonprofessional like me," Ichinoseki said.
He travels around the world with doctors, learning about innovative new devices and methods of cardiovascular surgery. He has traveled to the United States, Europe and and as far afield as Israel and India in search of new equipment to help surgeons and, ultimately, patients.
"Our business rests on the existence of sick people. So it makes me uncomfortable to think only about making money. Rather, I'm hoping that what we provide ultimately helps the sick and helps to (improve) society," Ichinoseki said.
Vital's ethos is to offer equipment that is patient-friendly. One example is a clamp that Ichinoseki imports from Europe that is used to hold an incision made horizontally along the ribs to operate on the heart, instead of the traditional vertical incision in the middle of the chest that results in a larger wound and takes more time to heal.
Vital also imports a tool that minimizes the movement of the beating heart so surgeons can operate without having to temporarily stop the heart, which is a more standard procedure but takes a toll on the patient.
When Ichinoseki joined the company, the business hadn't gotten off the ground and his colleagues were jumping ship. But products imported by Vital gradually became popular with doctors, spread by word of mouth, particularly in the late 1990s, when the company started to import equipment for minimally invasive surgical procedures.
Since its establishment in 1984, Vital has seen steady increases in sales, which reached nearly ¥6 billion 2008.
Ichinoseki attributes his company's success to ceaseless efforts demonstrate the merits of its products to doctors. Vital holds regular seminars for doctors and occasionally invites physicians from overseas who have used a particular device to explain its advantages.
"It's a costly method, but it's much more effective to have a fellow doctor speak rather than us trying to explain to the experts the merits of a particular tool," Ichinoseki said.
Although Vital does not develop its own equipment, Ichinoseki has made his own contribution to research and development in cardiovascular medicine. As well as working with doctors to discover the most advanced, patient-friendly surgical techniques, he works with overseas manufacturers to modify products to suit Japanese surgeons and patients, and has even attempted to develop equipment with Japanese manufacturers based on requests from clients.
But Ichinoseki said he is not interested in patenting his ideas.
"When you try to protect technology with patents, it hinders the potential for the technology to improve. I think anybody should be able to use the technology necessary to save people's lives."
Japan is the second-largest market for medical equipment, after the United States, worth some ¥2 trillion a year over the last decade. Imported equipment, mostly therapeutic, account for 40 percent.
"I believe Japanese manufacturers do have the technology to develop the equipment. But the market for a particular (device) is just too small for domestic manufacturers to make ends meet when you think of all the necessary investment to develop a medical product," Ichinoseki said.
In addition to its import business, Vital also serves as a wholesaler, providing hospitals with medical equipment and supplies.
Hospitals need a wide range of medical equipment for diagnosis and treatment. Because it is impractical for hospitals to deal individually with the vast number of dealers handling specific devices, dealers linked to hospitals act as agents and coordinate with the various importers and suppliers.
Except for particularly expensive purchases, which hospitals make directly, equipment suppliers traditionally carry an inventory, taking payment on only those products that are used. Keeping track of that inventory is a real challenge for dealers, who spend much of the day at the hospital counting the number of items used, Ichinoseki said.
To address this problem, Vital and four other medical equipment dealers have set up ProCure, Inc. to help rationalize inventory management. ProCure's advanced procurement system makes it easier to keep track of the supplies that are handled each day.
The company has also joined in setting up United Medical Corp., which offers consulting services to hospitals on updating facilities and technical systems, selecting appropriate medical equipment and procuring medical tools.
As a relative old-timer in the industry, Ichinoseki warns that the government needs to nurture the domestic medical equipment industry or it may suffer the same hollowing out that has hit other manufacturers.
Overseas medical equipment makers, for example, often provide doctors with training in the use of their products, but Japanese doctors rarely get such opportunities. Ichinoseki said a growing number of Japanese interns visit other parts of Asia to gain surgical experience because there simply aren't enough chances for them to improve their skills in Japan.
"Japan used to have other Asian doctors participate in difficult surgeries (to allow them) to improve their experience and techniques, but now it's the other way around."
Another factor that affects the domestic medical equipment industry is the Pharmaceutical Affairs Law. Medical equipment must be approved under the law before it can be sold in Japan, a process that can take years. Imported pacemakers, for example, are three generations behind the most advanced versions because of this process.
"In foreign countries, the company ultimately takes responsibility for the product it manufactures, but in Japan, it's the government that takes on that responsibility. It may be good for patients, but you can't help seeing older generations of products entering Japan when more advanced technology is already available overseas,"Ichinoseki said.
While acknowledging the merits of Japan's universal health insurance system, especially when compared with the United States, where insurance is so expensive people with lower incomes often do not receive adequate medical attention, Ichinoseki called for some more flexibility in the Japanese system.
"Wouldn't a patient prefer to use more advanced technology if they could afford it? "I don't think there is any harm in seeing medicine more from a business standpoint," Ichinoseki said.
This series has been prepared in collaboration with Enjin Co., which produces and operates a video Web site, kenja.tv, specializing in profiles of up-and-coming Japanese entrepreneurs.
---