Learn what it takes to have a successful future from these company leaders in our new series.
SuccessFactors helps get the most out of staff
By KAZUAKI NAGATA
Staff writer
Yusuke Kinoshita enjoyed the experience of founding a company with a few others in 1997 in Osaka and hoped to do it again when the time was right.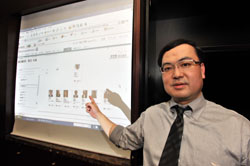 His chance came in 2008 when U.S.-based SuccessFactors Inc., which sells employee-performance management software, asked him to lead its newly founded Japan branch.
"Founding a business is very interesting. Of course, it has high risk and high return, and there are unsuccessful cases," Kinoshita said in an interview last month.
The timing worked quite well for the 47-year-old Hyogo Prefecture native who had started his career at IBM Corp., where he worked for 11 years. He went on to cofound the Japan branch of U.S-based Siebel Systems Inc. in 1997 and put in five years there.
After receiving an MBA, he spent five years at BEA Systems Inc., which was later bought by Oracle Corp.
Having gained a raft of experience in the information technology industry, "I wanted to manage a company, considering the timing and my future," said Kinoshita, whose firm received corporate recognition last June.
He said he is glad to have a chance to run a company with such great chances for growth.
"(The company) has very high potential, and people in the IT industry recognize that," he said.
The online software helps companies better organize employee profiles, goals, salaries, performance and personnel affairs, as well as enhance transparency in evaluations and stimulate morale, according to Kinoshita.
The software, available in 31 different languages, consists of 13 modules, including goal management, employee profile, succession management and performance management. Client companies can chose which modules to purchase.
Information entered in those modules can be integrated with each other to help in a variety of ways.
For instance, while maintaining employee profiles, goals and performance, the data can also be used for compensation management.
The software can also improve communications between junior staff and division chiefs in terms of achieving goals, because they can check their progress via computer spreadsheets as opposed to the paper-based approach, for instance.
In addition, the accumulated data can be used to search for suitable employees for a given position by setting various criteria.
While the company is still new to Japan, SuccessFactors' product has already been accepted worldwide.
The company, which has more than 5.4 million users, currently holds the world's No. 1 position, with 2,850 business customers in 180 countries. It is listed on the U.S. Nasdaq, and client-customers include Gap Inc., Hilton Hotels and Nissan North America.
When it comes to personnel affairs, some might think SuccessFactors' service to better manage a merit-based pay system may not fit in Japan, where seniority and lifetime employment are an integral part of the corporate culture.
Kinoshita believes this notion is outdated.
"The merit-based pay system is used by most companies in Japan these days in some form. But it is questionable if companies are managing it well and if evaluations are done fairly," he said.
Kinoshita said enhancing transparency and reducing sectionalism in personnel affairs is connected to strengthening employee performance.
"I think personnel affairs affect employees' motivation, as a company's main resource is people," he said.
Merit-based pay can expand in Japan through a tool like his company's software, he said, because many firms hope to develop competent human resources, especially during the current economic downturn.
Another merit of his service, Kinoshita pointed out, is that it is cloud-computing-based, thus requiring neither a physical server at a company nor manpower to maintain the software.
Cloud computing is jargon for using software and data on the Internet instead of programs and information stored on computers. The Yahoo and Google mail services are simple examples.
"All you need is a computer and the Internet," and users can then access the log-in Web site to use the service, Kinoshita said.
Although some users may be apprehensive about storing sensitive information in cyberspace, Kinoshita said the software is approved by the strictest U.S. audit.
When purchasing the product, SuccessFactors gives customers flexibility by offering subscriptions on annual terms, taking advantage of the online-based service.
"We offer a yearly subscription contract, and depending on the venders we offer monthly contracts. So if customers use the service and don't like it, they can stop after a year," Kinoshita said.
This kind of subscription opens the door for customers because they do not have to spend a huge amount of money to buy a software package to get started, he added.
And because customers can stop using the service on a yearly basis, the company has to work hard to meet their expectations.
"The software is revised almost monthly, based on customers' voices from around the world," he said, adding that the subscription renewal rate is more than 90 percent. "Unless we can create a win-win relationship even after selling products, the company would not grow."
With a world-leading service, Kinoshita is set to lead the Japan branch and penetrate the market.
He said that because it has only been a few months since the company was recognized as a corporate body, the firm was still in its nascency last year and focused on spadework.
For near-term goals, the company aims to gain 30 client companies and earn about ¥300 million in sales for the next business year. It also wants to get more than 100 corporate customers after the next fiscal year, Kinoshita said.
Based on the spadework last year, the company aims to aggressively promote its service this year, said Kinoshita, who has been given free reign.
"When you are in a big company, it is hard to act quickly to realize what you want, even when you have climbed to a high position," Kinoshita said.
While there is a standard framework, his company basically lets Kinoshita personalize the management of the Japan branch.
Thus "(the work is) challenging and interesting in terms of realizing what I would like to do," he said.
This series has been prepared in collaboration with Enjin Co., which produces and operates a video Web site, kenja.tv, specializing in profiles of up-and-coming Japanese entrepreneurs.
---