Learn what it takes to have a successful future from these company leaders in our new series.
Furniture maker Manone cultivates customer ties
By MINORU MATSUTANI
Staff writer
Keisuke Takana, president of furniture maker Manone Inc., has two kinds of business cards, one saying he is the president and the other saying he is a salesman.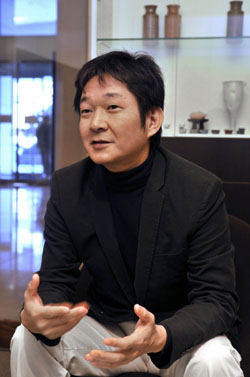 He plays the salesman card at the company's showroom in Tokyo's Nishi-Shinjuku district because he wants to have direct contact with customers.
"Sometimes, customers teach me a very creative way of using our products, which I could never think of," Takana told The Japan Times in a recent interview. "I like it when customers surprise me like that."
Manone, which assembles all its products in Hachioji, western Tokyo, with parts it buys in Japan and overseas, is not a ready-made furniture seller like Swedish giant Ikea or Nitori, a Japanese competitor, Takana said. It basically provides the main body of so-called storage furniture (furniture-like wooden frames), shelves and other optional accessories, with which customers can customize their furniture.
One popular Manone item, for example, can function as a wardrobe, shoe cabinet, TV and DVD cabinet table or a kitchen cupboard, depending on how the shelves are arranged and which accessories are used.
"We don't regard Manone as a furniture maker. It is a company that provides a storage functions and helps customers create a comfortable space in their houses," Takana, 43, said.
Manone's basic piece of furniture is a wooden frame with vertical partitions. Each partition comes with a number of holes for adjustable shelves.
The versatility of the products keeps customers coming back for shelves and accessories once they have bought the basic piece, Takana said.
Manone furniture is expensive when compared with competing Ikea and Nitori products, which cost "about a third" as much. "But, considering total costs over 30 years, our products are cheaper," said Takana, because Manone customers don't throw away their furniture while people discard Ikea and Nitori items in three to five years.
The cost of Manone furniture is reflected in the quality of the materials it uses. Shelves are made from durable laminated veneer lumber, rather than the particleboard many discount furniture makers use.
"I say to customers, 'If you care about cost, you should go to Ikea or Nitori," ' Takana said.
He doesn't regard Ikea and Nitori as rivals because their products are fundamentally different.
"They turn furniture into fashion. Their customers buy new furniture in three- to five-year cycles. For them, changing a house layout means throwing away old furniture," he said. "Also, their outlets have a bookshelf corner where they sell only bookshelves, and a chair corner where they sell only chairs. We are a maker of storage systems and sell storage functions. We are in a very different business from Ikea and Nitori.
"When you think about ecology, our products are much better," he said. "We don't waste resources."
Despite this commitment to quality, Manone was hit by last year's recession. The 40-employee company, founded by Takana's father in 1964, saw sales drop 30 percent in 2009, mainly due to the drop in condominium construction by large general contractors.
Takana is trying to become less reliant on large construction companies and focus more on individuals and home builders and renovators because he wants to be closer to the final customer.
General contractors accounted for 90 percent of Manone's sales until 2008, but last year that figure plunged to 30 percent. Takana said he wants eventually to cut that share to 10 percent.
Of the sales not going to large construction companies, 20 percent comes from individuals and 80 percent from home builders.
"I feel better because I am dealing directly with customers more, even though sales went down," he said. "In mass-selling via large construction companies, cutting costs is everything. Now, we sell customers something that is not cheap and please them in a true sense. I am surprised how many repeat (customers) we have."
The plus side of working with large construction companies is that it gives Manone access to the technology and knowhow to make production more efficient, Takana said.
Manone does not sell to retailers. Customers buy online, at showrooms in Tokyo, Osaka and Nagoya, or through home builders.
He is looking to expand to Asia, where the company sees a lot of potential.
"The idea of system storage originated in Europe. But our company has evolved in a unique way in Japan, which is isolated like the Galapagos Islands. It is impossible to enter Asian market by ourselves," he said. "Thus, we are thinking of forming a partnership with a company in Asia that can share our business philosophy."
Takana hopes to generate consulting fees or royalties from an Asian partner, he said.
"In countries that are economically developed, the last problem households encounter is the storage problem because they keep buying (more) goods as they grow wealthy. The more developed an economy is, the bigger the storage problem," he said. "Thus, our business model provides a solution for this problem."
Takana believes cultural differences are not a barrier to Manone in entering Asia because the changes in people's lives that economic development brings create demand for storage, regardless of culture.
"A long time ago in Japan, wardrobes made of 'kiri' (paulownia), were the most expensive thing in the home. Nowadays, TVs and computers are. TVs became thin and light. Furniture has to catch up with the speed of such changes in consumer electronics."
Takana said Manone has a strong brand image in Tokyo and other large cities in Japan, with 300,000 households using an average of about ¥600,000 worth of Manone's products.
He believes his philosophy of being honest is behind the company's prosperity.
"I think the meaning of brands is not to sell expensive things but to keep promises. That leads to everything — services and quality of products. We say we cannot do what we cannot do, and we will do sincerely what we can do," Takana said.
This series has been prepared in collaboration with Enjin Co., which produces and operates a video Web site, kenja.tv, specializing in profiles of up-and-coming Japanese entrepreneurs.
---