Learn what it takes to have a successful future from these company leaders in our new series.
'Netrepreneur' boasts generation-'76 success
By YVONNE CHANG
CONTRIBUTING WRITER
As the 33-year-old president of an Internet startup company located in Shibuya Ward, Tokyo, one could say Shujiro Beppu is a typical "nanaroku sedai," or literally, "generation of '76."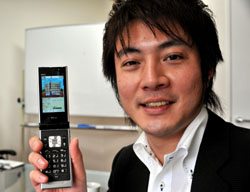 The term refers to the generation of information technology and Internet entrepreneurs in Japan born around 1976. These people saw computers entering their everyday lives and are familiar with Internet businesses launched by IT pioneers such as Masayoshi Son of Softbank and Hiroshi Mikitani of Japan's largest e-commerce Web site, Rakuten.
Many of these ventures have congregated in Shibuya and the neighborhood came to be called "Bit Valley," a spinoff of California's Silicon Valley.
Cyber Quest Corp., the Internet venture established in 2005 by Beppu, fits right in. The company develops cell phone Web sites, offers online ad services, including affiliate advertising and behavioral targeting, and develops proprietary software that allows users to easily set up their own cell phone Web sites.
Still a newcomer to the industry, with the average age of the firm's 45 employees being 27, Cyber Quest has managed to post sales of ¥1 billion so far in fiscal 2009 despite heavy competition and the sluggish economy.
Raised by a father who ran his own business, Beppu always dreamed of one day having his own company.
"The beauty of entrepreneurship is that you reap what you sow. The more effort you put in the business, the more you get in return. But then, everything is at your own risk," Beppu said.
The only problem was that he didn't know what kind of business he wanted to run.
"I first thought of entering the restaurant business, but there was no real reason. It just seemed the easiest way to start a business," Beppu recalled.
So after graduating from college, Beppu spent two years bouncing from job to job until he finally settled on work as a salesman soliciting subscriptions for paid broadcasting. Three years later, he founded his first company but was quickly forced to close down when he ran out of capital.
"Back then, I had absolutely no knowledge of how to run a business," Beppu said.
Forced to return to job-hopping, Beppu spent his days licking his wounds by playing pachinko and accruing debt. His growing debt prompted him to look for a proper job, and Beppu applied at an Internet advertising company for a simple reason: "I was attracted by the high salary."
With absolutely no background in the IT business, Beppu went about taking notes on everything and anything he encountered and soon found himself enjoying what he was doing.
"It's the speed of this industry. I get bored easily, so this (industry) suited me."
It did not take long for him to set up Cyber Quest Corp., which he started in March 2005.
Another reason Beppu was attracted to this industry is the scale of the market.
"No matter how hard I tried, the most I could make knocking on doors all day selling products would be several hundred thousand yen. But if I strike one deal to sell an ad, we're talking rates of ¥1 million, ¥2 million. It's the sheer scale (which led me to find) this business so attractive."
He said a lucrative market exists in the domestic mobile content business. Japan's cell phone subscriber base topped 107 million in 2009, meaning an overwhelming 84 percent of the population carries a mobile phone.
The handset, packed with the most advanced technology, has become an indispensable tool, particularly among the younger generation, with many relying on their phones instead of laptops to access the Internet. Consequently, the demand for Web content designed specifically for the small handset screens has expanded dramatically.
Among the various services and content available on cell phones, Beppu believes social networking services will be the bread and butter of the mobile content business.
Cyber Quest launched its own SNS site, Nani-suru.jp, in 2007 and has since drawn 540,000 users. The company is focusing more on developing and operating its own mobile Web sites because proprietary content creates higher profit margins than commissions from advertising.
And Beppu has his generation to prove the potential of SNS. Representative figures of generation '76 include GREE President Yoshikazu Tanaka and mixi President Kenji Kasahara, both in their early 30s and both running immensely successful SNS sites.
But Japan's cell phone market also suffers from what experts call the "Galapagos syndrome," where the gadgets have gone through a sophisticated domestic evolution but, despite highly advanced technology, fail to catch on in the global market.
Beppu, who wants to eventually expand his business overseas, noted that while the Galapagos syndrome will make it difficult to transfer the hardware and technology, the Japanese business model for mobile content should work overseas.
"I don't think there are many successful business models for mobile content abroad yet and I see potential in the Japanese business model."
However, Beppu said monthly subscriptions, the standard business model for most mobile content in Japan, won't work overseas. Rather, he said, the newer style of selling items through applications available within the SNS, as seen in popular services like Facebook, is better for the global market.
The appeal of the Internet is that you can launch a business without much capital if you have a single good idea. But for Beppu's company to maintain its competitive edge, "speed is the key," he said.
"This market moves so fast that what may have been a good concept six months ago would be outdated by the time the software is developed."
Beppu wants to up the speed of developing a mobile Web site from the current five months to three.
"I hear that some of the recent 'fast fashion' textile manufacturers take two weeks to develop a design and ship the product to the stores. That's the kind of speed we need, too," he said.
For that, good engineers are indispensable and the company is aggressively recruiting them for its content and software development. Beppu said the current recession is a positive for his company.
"People who wouldn't have thought of working for a company like us in the past are applying for a job."
The young "netrepreneur" realizes the difficulty of surviving in this rapidly changing industry of cutthroat competition. In fact, he faced the risk of closing his company twice in the past four years, once when he ran out of funds soon after launching the business and again about a year and a half ago when ad revenue plummeted at a dramatic rate.
There was no secret recipe that pulled him out of the crisis.
"We were just desperate and went about just trying to sell, sell, sell," Beppu said. "But strangely enough, that was when I felt myself and my staff uniting toward a common goal."
All in all, he enjoys the Internet business.
"It feels like all the jumbled feelings I had (in my younger days) sort of materialized when I joined this business."
He is happy with the progress his company has made in the last four years and remains upbeat on what lies ahead, hoping to more than double sales in the next year or two.
"(This) year we're going to take the offensive," he said.
This series has been prepared in collaboration with Enjin Co., which produces and operates a video Web site, kenja.tv, specializing in profiles of up-and-coming Japanese entrepreneurs.
---