Learn what it takes to have a successful future from these company leaders in our new series.
Cocoroca finds relief in tough home health market
By HIROKO NAKATA
Staff writer
Despite the lingering economic slump, medical equipment maker Cocoroca Corp. saw its profits rebound sharply in the business year that ended in March.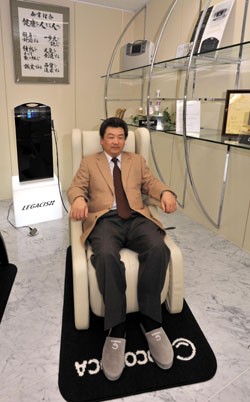 That is largely because the company decided last year to back off from a costly plan to publicly list its shares and instead concentrated on its main business: selling electric potential therapy devices for personal use.
The small, box-shaped machines send a low electrical current to a mat that the user sits on. The treatment helps ease headaches, stiff shoulders, constipation and insomnia, according to Cocoroca.
"After we decided last April to scrap the plan to make a debut on the stock exchange, our sales and profits grew," said President and CEO Tomoaki Hiwatashi.
For the business year that ended in March, Cocoroca posted a ¥537 million net profit on sales of ¥4.3 billion, up sharply from a ¥23 million net profit on ¥3.9 billion sales the year before.
The company swung back to profit following a ¥267 million net loss for the year ended March 2006, mainly due to high labor costs. Former President Mikihiko Hase, who founded Cocoroca in July 1987, decided against listing its shares because to be eligible the company would have had to significantly expand its workforce, raising labor costs and hampering efficiency, Hiwatashi, 49, said.
Hase had been preparing for the stock listing since 2003. He died of a heart attack in August 2008 soon after deciding against the stock flotation.
Continuing in the direction set by his predecessor, Hiwatashi reorganized the company to improve operational efficiency.
To do that, he stripped out unnecessary bureaucracy and gave senior management a better view of what was happening inside the company.
The changes allowed Cocoroca to eliminate overstaffing. As of April 1, the company had 209 employees.
Hiwatashi is bullish on the company's prospects, forecasting a record ¥4.6 billion in sales for the current business year ending next March.
While acknowledging that sales have fallen at some of Cocoroca's rivals due to the economic slowdown, Hiwatashi thinks his firm will do better.
"I am confident that our sales will not fall even if the economy worsens, if consumers really understand that the devices are good for their health," Hiwatashi said. "So they need to understand they are actually good."
Cocoroca's devices use a patented probe technology that allows the user to direct the current to the part of the body where it is needed, while reducing the tingling the user feels.
Cocoroca lets people try out its electric potential therapy devices for three to six months so they can judge for themselves the positive effects of the therapy.
Other companies offer a one-month trial, a much shorter period than Cocoroca, Hiwatashi said, adding that unlike massage chairs, it takes some time for customers to see the benefits.
"We don't necessarily want all the people coming to our outlets to buy our devices," Hiwatashi said. "We expect 30 percent of the people — who truly understand the effects of our devices — to buy them. So we don't need to force them to buy."
Electric potential therapy devices have been around more than 80 years, after physician Toshiyuki Hara developed a prototype in 1928. He later founded the Hakuju Institute for Health Science Co., a rival of Cocoroca's that makes similar devices.
But even Hakuju, the largest maker of such equipment, posted a slim ¥89 million net profit on sales of ¥10.3 billion for the business year that ended in June 2008. A year earlier, it saw a ¥886 million net loss on sales of ¥9.3 billion.
Meanwhile, sellers of the devices are under pressure to improve the industry's image, as some exaggerate the health benefits in violation of the law. Under the current law on medicines and medical equipment, makers of electric potential therapy devices can only claim benefits for headaches, stiff shoulders, constipation and insomnia, as other positive effects remain unproven.
Cocoroca said it has taken two steps to prevent illegal sales tactics.
One is to set up cameras at each store so that headquarters can monitor sales staff and give advice. Another is to make unannounced visits to two or three shops a month, with inspectors posing as customers, to listen to sales pitches.
Hiwatashi said that when the company was founded, 1 percent of all orders were canceled, mainly because the company only offered a 30-day trial period.
Seven years later, with a steady cash flow, Cocoroca now offers a 90-day trial and only one order in 1,000 is canceled, Hiwatashi said.
Now he is looking for an opportunity to do business in the United States.
"This electric potential therapy device was developed in Japan. In the U.S., no such equipment has been approved by the Food and Drug Administration," he said.
In Japan, electric potential therapy devices are currently approved by the Health, Labor and Welfare Ministry under the category of home-use medical devices, which have less stringent approval standards than medical equipment used by professionals. The FDA does not have a home-use category.
Cocoroca's devices are also subject to approval under the global IEC60601 safety standard for electrical devices.
"Because the two hurdles are so high, no Japanese electric potential therapy device maker has successfully cleared them. But we will continue to take on these hurdles," Hiwatashi said.
This series has been prepared in collaboration with Enjin Co., which produces and operates a video Web site, kenja.tv, specializing in profiles of up-and-coming Japanese entrepreneurs.
---