Learn about innovative strategies and successful business philosophies from Japanese executives in our series, Wisdom of Entrepreneurs
December 8, 2009
Hartin Martin helps schools, firms unlock Net potential
By TAKAHIRO FUKADA
Staff writer
Everyone knows the myriad ways the Internet adds convenience to people's lives, makes the sharing of information easier and cheaper, and reduces the burdens of doing business.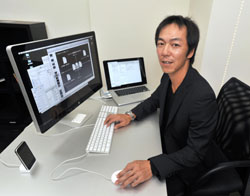 Net gain: Masahiro Takahashi, managing and creative director of Hartin Martin Corp. speaks during an interview at his office in Shibuya Ward, Tokyo, on Nov. 6. YOSHIAKI MIURA PHOTO
But not many actually have the knowhow to turn the Internet's potential into reality because of the complicated programming and technology involved.
This is where Web consulting companies come in, and Tokyo-based Hartin Martin Corp., a Web site developer founded by Masahiro Takahashi, is focused on helping educational institutions make their sites easier to use.
"With information technology, we can make people's work easier," said Takahashi, the firm's managing and creative director. 'With a single click, we can make it possible for people to do for their businesses what used to take 10 people 10 days to do."
Takahashi, 42, had that insight while creating a new Web site for the University of Tokyo. He designed a system to compile academic information and other data stored in various places "under one roof," allowing authorized personnel to access it.
Unlike corporations, where a top executive can make a decision for the entire organization, universities have numerous independent decision-makers in each department, which makes it difficult for university staff to centralize the information stored around campus, he said.
Improving an organization's internal structure using Internet technology is the key to Hartin Martin's business.
Takahashi also developed a system that allows the university's public relations office to publish information from various departments at its own discretion with a few mouse clicks. Hartin Martin is now developing similar systems for other universities.
While working on a project for a culture school in Tokyo, Takahashi realized how a single, well-designed computer system can help organizations cut through reams of paperwork.
Staff at the school used to spend days sorting out application forms, drawing lots to select students. Hartin Martin's system now processes applications online, letting students know immediately if they have been accepted, thereby improving customer service.
But that wasn't the school's only problem: Some students were signing up for the same hour several times. The system also took care of that.
The key to satisfying clients is making the system easy to use.
"That user-friendliness is something we have been aiming for the most," Takahashi said.
He urges his employees to make a Web site's usability the top priority, even if the client resists.
"We must create (Web sites) while considering the fact that there are thousands, tens of thousands, and hundreds of millions of users beyond our clients," Takahashi said.
If end users cannot easily find what they need from a Web site, it has no purpose, he said.
"One click can make hundreds of millions of users feel disappointed, puzzled and fearful," Takahashi said.
His first encounter with the Internet came during a stint with an advertising agency. At that time, Microsoft's Windows 95 was taking the computer world by storm.
An Internet ingenue, the Web was a futuristic world that looked like something out of the movies to Takahashi — a shock that changed the course of his career.
Foreigners, Japanese, young and old were using chat software to talk to people around the world.
It was then that Takahashi realized that the Net eliminates the time and cost constraints of communicating with people on the other side of the planet. "This is something we had never seen in Tokyo in the past," he said.
The Internet also gives people access to a world of products they never had at home.
"Isn't this like a movie? From now on, it is Web sites that will change the world," Takahashi said.
He was hooked by the unlimited potential of the Internet, devouring books and online information to learn more.
Since his ad agency decided not to get involved in the Web business, Takahashi and a colleague founded Hartin Martin in 1997 to pursue their new passion.
Business was tough at first. There were only two employees and annual sales totaled just ¥3 million to ¥5 million. Despite the difficulties in making a living, the two promised to do their best and conduct their business honestly.
Their big break came during the Internet business boom of the late 1990s and early 2000s. Takahashi's work caught the eye of a major advertising agency, winning his firm orders, which in turn brought in work from other agencies. The company now has sales of ¥200 million and 21 employees.
The secret of Hartin Martin's success may be its knack for attracting talented programmers. Takahashi hired an unemployed man who was several months behind on his rent, but he was a whiz with computer code. That employee has become the backbone of the company.
Outsourcing work to skilled young engineers may be another key to profitability, allowing the firm to hold costs down.
What such engineers lack is a showcase for their abilities. They wouldn't visit companies to drum up business, but they could do fantastic work once they had an assignment in hand.
Takahashi makes sure these self-effacing types know they are appreciated. "By praising them, I can let them do (their jobs) and give them confidence," Takahashi said.
Despite Hartin Martin's deep pool of talent, the company has been hit hard by the financial crisis. Clients have slashed their orders by half, or eliminated them completely, with sales dropping precipitously since April.
While revenue from client companies is likely to fall, Takahashi sees universities as a stable source of money.
Although challenges remain, Takahashi hasn't backed off from his ambitious targets, aiming for ¥1 billion in sales and 30 employees within the next 10 years.
This series has been prepared in collaboration with Enjin Co., which produces and operates a video Web site, kenja.tv, specializing in profiles of up-and-coming Japanese entrepreneurs.