Learn what it takes to have a successful future from these company leaders in our new series.
Ask and you shall receive, self-improvement guru says
By KEISUKE OKADA
Staff writer
"Ask, and it shall be given you; Seek, and ye shall find; Knock, and it shall be opened unto you" (Matthew 7:7). For Yuichi Matsuda, this famous passage from the Bible resonates as the essence of successful sales.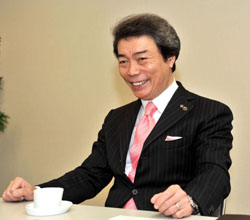 "It's the same for sales," said Matsuda, a former top car salesman at a major Japanese automaker.
Today, Matsuda runs a business seminar company, ASK Global Communication, which offers management and self-improvement seminars for businessmen as well as individuals.
ASK refers to the first letters of "ask," "seek" and "knock," the key words of Matsuda's favorite phrase.
Matsuda's first encounter with self-improvement seminars was in 1987 when he was 32 years old. He had been a top salesman for 10 years but always felt an "unnaturalness" in his demeanor when talking to his clients.
"The company would teach the skills necessary for sales and approaching clients, but I wasn't able to digest that as truly my own. So everything I did seemed artificial, like I was always acting," Matsuda said. "Over the years, I became frustrated that I couldn't rid myself of this artificialness."
After attending a seminar, however, he felt that the skills he had acquired over the years at the company and his "internal will" merged, and he was able to think of what he did as a "mission."
The seminar showed concrete results in the form of improved sales, Matsuda said.
During his total of 12 years as a car salesman, Matsuda sold 1,300 units, a record that has yet to be broken, he boasts.
Later, Matsuda was recruited by the company that offered the seminar he attended and he said goodbye to his career as a car salesman to become a professional trainer. He worked for eight years there as a trainer and worked briefly in a similar domestic seminar company before starting ASK Global Communication in 2002 when he was 47 years old.
Matsuda offers a wide range of seminars, providing training in sales, management, team building and personal growth. He has also authored several books on improving business sales skills.
Seminar participants are mostly businessmen who want to improve their business performance, but housewives and students also attend the sessions, according to Matsuda. He sometimes speaks before groups of 200 to 500 at a time. Word of mouth is the primary form of advertisement.
The company, whose headquarters is located in Hawaii, also is the sole representative of the Professional Dynametrics Program, or PDP, an online-based management tool developed in the United States that analyzes an individual's behavior in the workplace and allows management to identify employees' strengths, communication and work style so individuals can be assigned the jobs that best suit them.
But the core program of the company consists of the ASK, SEEK and KNOCK courses, where the company derives its name. The three-day ASK basic course offers tips on identifying one's strengths and weaknesses, and on establishing personal goals in one's daily life, according to the company Web site.
The intermediate SEEK course, consisting of an intensive overnight session lasting four days, expounds on the issues raised in the introductory course and seeks to "challenge the limits of one's possibility."
The final KNOCK course, dubbed the "leadership course," lasts six days and spans a period of three months. The course enables one to realize a "habit of accomplishment" as a leader, and the leadership training session "makes one truly experience the ability to set goals and to execute them," according to the firm's Web site.
This three-tiered seminar style is not necessarily new. His seminars find their roots in the self-improvement seminars that were first introduced to Japan in the 1970s.
A self-improvement seminar, sometimes called "Large group Awareness Training," or LgAT, is a form of group therapy organized by commercial organizations for an individual's growth that became popular in the United States in the 1970s. The concept was later exported to Japan and other Asian countries.
The seminar was first introduced in Japan when Robert White established Life Dynamics, later renamed ARC International, in 1977. Since then, many advocates branched out from Life Dynamics to start their own companies with similar courses, hence many such seminars in Japan are said to be offshoots of those that were offered at Life Dynamics.
A whole new industry of training and seminar companies mushroomed. At the peak of their popularity, experts estimate there were some 100 companies offering self-improvement seminars in Japan, drawing more than 200,000 people by 2001 despite some sessions being extremely costly.
But some of these seminar companies were criticized by the media and watchdog groups as lacking scientific validity, and for the excessive recruiting of new participants by the current attendees, as such action was often considered necessary to "complete" the program.
"I realize there is a close resemblance," Matsuda says, comparing the seminars from the 1970s and 1980s with the ones he offers today. In fact, the company's Extraordinary Leadership Training (E.L.T.) session is another intensive four-day session by Life Dynamics founder Robert White, who is now one of their contract trainers.
But Matsuda explains that his sessions are different from the seminars that were criticized in the past. "Those self-awareness seminars were vague about the goals, and the evaluations were subjective, depending on how the participants felt later," Matsuda said. "But I demand that the participants set a clear goal, and after they go through internal realization, we follow through until they are able to actually realize the goals in everyday life.
"When the trainer's vision is vague, the general purpose of the seminars becomes vague," Matsuda said about the weakness of earlier seminars.
He is also critical of business seminars often picked up in the domestic media where the trainers hurl abuse at weak-hearted participants. "That is an often-used skill of trying to externally motivate the participants, but what we do is try to motivate the participants internally," Matsuda said.
Despite relying on the traditional techniques that lost their allure by the end of the '90s, Matsuda believes there is still demand for seminars like his in Japan, as his schedule — which is almost fully booked through next year — proves.
The recent economic downturn is also forcing many corporations to cut back on employee training, along with expenses and advertising, but Matsuda says corporations that believe in improving the competence of individual employees will continue to pay for training programs like his.
Matsuda acknowledges that the company is still dependent on his name value. "Eventually, I want to establish a more meticulous system so that anyone (who received the training) can create the same results (as me)," Matsuda said.
And his ultimate goal is to "re-export" his style to the United States; hence the word "global" in the company name.
"That's my goal for the next 10 years," Matsuda said.
This series has been prepared in collaboration with Enjin Co., which produces and operates a video Web site, kenja.tv, specializing in profiles of up-and-coming Japanese entrepreneurs.
---