Learn what it takes to have a successful future from these company leaders in our new series.
Old and new methods boost sales for green MED
By KEISUKE OKADA
Staff writer
With the growing public awareness of climate change as the catalyst, sales of MED Communications Co.'s household electrical goods are thriving.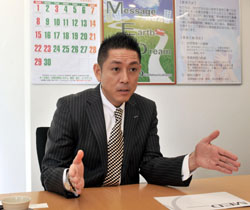 "Our company is almost 100 percent free from the repercussions of the current economic slowdown, triggered by the Lehman Brothers fiasco in the fall of last year. Rather, we are riding on the upswing of the market," said Hiroyasu Sasaki, president of the Tokyo-based firm.
Sasaki isn't exaggerating. MED Communication's sales leaped more than 50 percent to ¥4.95 billion in the latest business year ended in October, from ¥3.26 billion the year before.
His company sells three essential items for environmentally friendly households: a solar power generation system, a heat-pump water heater and an electric stove-top range that uses an induction heating mechanism.
Of its three main products, which the company sells door to door, the solar power system is the largest source of revenue, accounting for nearly 50 percent of annual sales.
MED Communications has more than quadrupled installations of the solar power unit to 1,020 this year from 221 a year ago.
According to Sasaki, 41, the company's most popular household solar power unit can generate 3 kw and costs ¥2.1 million, including installation. Depending on the shape and condition of the roof, an additional installation fee of ¥300,000 to ¥500,000 is required.
Asked whether the system pays for itself over the long term, Sasaki responds: "Yes, it does in many ways. First, we can contribute to the mitigation of global warming. We can satisfy our urge to save the Earth and hand over a better environment to our descendants.
"Second, we can live a safe, secure and comfortable life, and third, the investment makes sense in terms of cost performance," he added.
For ordinary households, that remains the biggest factor in determining whether people put up solar panels.
Government and industry data show the cost of household solar power generation has dropped dramatically from ¥4 million per kilowatt in the early 1990s to about ¥700,000 today. Technological improvements keep pushing the efficiency of the systems higher, while manufacturers strive to lower costs and prices through mass production. For a household to recoup its initial installation costs within 10 years, rather than the current 15 years or more, experts say the systems should cost no more than ¥450,000.
Sasaki pointed out, however, that public subsidies aimed at encouraging solar power generation are helping to lower the cost to the consumer. Currently, the national government offers ¥70,000 per kilowatt for households that install solar power systems. In addition, the Tokyo Metropolitan Government offers grants of ¥100,000 for the systems.
"If you install a 3-kw system in your house, you qualify for both the national and the Tokyo government subsidies worth half a million yen. Many cities provide their own incentives," he added.
Another boost to household solar power came Nov. 1 when the government launched a program that enables power companies to purchase surplus electricity produced by solar power generation systems installed in homes at above-market rates.
According to one estimate, a household with the system can recoup its initial investment in roughly eight years if the buyer takes advantage of the full range of subsidies.
On the strength of this tail wind, MED Communications is stepping up its sales efforts, encouraging prospective customers to install its solar power system together with a heat-pump water heater and electric range under the company's "all-electric drive."
"Practically, a household can bring its heating and lighting costs close to zero, while paying off the initial cost for equipment in 10 to 15 years. With the proper 'eco-mindset,' even water bills go down in most cases," he said.
While environmentally friendly products are available from large electric appliance retailers, local home builders and smaller neighborhood shops, Sasaki's firm maintains a door-to-door sales approach.
"Our sales method is very simple and classic. We find prospective customers through telephone solicitors and our salespeople visit those who show interest in the equipment," he said.
The merit of home visits, according to Sasaki, is that sales people are able to talk in detail with prospective customers about the benefits of the products and how they can meet their specific needs and lifestyle.
Sasaki acknowledges that this approach can lead to a "hard sell" attitude. In 2003, the firm was reprimanded by the Tokyo government's consumer protection watchdog for its aggressive sales tactics for water purifiers, MED's main business.
"I was a managing director in charges of sales at that time. I did learn a bitter lesson from that disgraceful failure. We wiped out the bad elements from the sales force and streamlined the firm's entire operation to make a new start," he said.
To ensure full legal compliance, the firm introduced a system in which senior employees confirm prospective customers' willingness to have sales staff visit their homes after a telephone solicitor ascertains their initial interest. This helps to determine whether sales staff have acted appropriately.
"With these compliance measures, we were able reduce cases of problems with customers to near zero. If any, the (remaining) troubles are mostly glitches related to the installation of equipment, which we can fix," he said.
Sasaki said that despite consumers' sometimes deserved suspicion of door-to-door sales, he still believes in the approach.
"The crux of sales promotion, whatever turf your business is in, is how to win a customer's trust in a salesman," he said. "To do this, empathy and information are the two basic factors.
"(We) listen to what a customer really needs and inform the customer how we can serve him or her with our goods and services. That's the basics of sales activities. The face-to-face sales approach is the best as far as our business is concerned," he said.
Sasaki was thus excited by the fact that about 1,500 young men and women applied for the firm's mid-career recruitment of 20 salespeople last February.
"In the past, if we hired 100 people, we soon lost 120. Now, we are able to hire capable youths as our sales force," Sasaki said.
To his surprise, more women than men applied. He hired 15 women for the 20 positions. He went further in May, setting up a new sales office in Yokohama staffed exclusively by the newly employed women.
The office is producing unexpectedly good results, he said.
Sasaki has been at the forefront of sales activities since he joined the firm at the age of 25. The success of the women-only sales office was an eye-opener for Sasaki.
He said he decided to boost the share of women in the firm's sales force to 50 percent from the present 10 percent by the year 2012.
"Like it or not, I sense that 2010 will be the year for women to outshine men."
This series has been prepared in collaboration with Enjin Co., which produces and operates a video Web site, kenja.tv, specializing in profiles of up-and-coming Japanese entrepreneurs.
---