Learn what it takes to have a successful future from these company leaders in our new series.
Refurbisher gives jewelry stashes new lease on life
By KAZUAKI NAGATA
Staff writer
Satoru Yamada knows people have tales and emotions attached to their jewelry, and he likes to keep both shiny.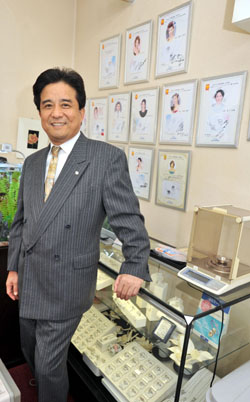 "People have amazing stories behind their jewelry," which they received from loved ones, said Yamada, president of Ecmis Co., which refurbishes and redesigns jewelry, breathing new life into items often unworn due to age and fragility.
"People are really delighted when we redesign jewelry. It's like recharging their memories," said Yamada, a 54-year-old Kumamoto Prefecture native.
Based in Tokyo's Okachimachi district, Ecmis has been providing jewelry repair and refurbishing services for more than 20 years, growing gradually even though the jewelry business as a whole has been in decline.
The jewelry market peaked in 1991 with about ¥3 trillion in annual sales, but since the burst of the bubble economy the market has kept declining.
In 2008, it had shrunk to around ¥997 billion.
"Inversely proportional to the industry's tendency, our business has gradually grown. I think it was right to focus on jewelry refurbishing," Yamada told The Japan Times in a recent interview at his company.
Jewelry is a must-have possession for women, but the repair and redesign market gets little attention.
" 'Can you really make a profit (by refurbishing jewelry)?' people still often ask me. It has still not been recognized by many," Yamada laughed.
Since Ecmis was established in 1986, the company has grown to 46 employees and some ¥1.3 billion in annual sales.
Yamada said business has been smooth over the past 10 years, with annual profits ranging from ¥50 million to ¥70 million.
A unique, and profitable, tack taken by Ecmis is to help jewelry shops, boutiques and cosmetic stores hold fairs on repairing and refurbishing jewelry, and then the firm steps in to offer its services. Ecmis employees provide support in organizing and promoting fairs as well as selling products.
The company offers about 500 different basic design patterns for jewelry made of silver. Based on the basic pattern and design requests from customers, jewelry goes through handcrafted revamps.
Yamada said one merit of his business is that it does not have to worry about dealing with expensive jewelry stocks.
Although more companies have started offering similar services recently, few had made refurbishing jewelry their mainstay when he established Ecmis because it was thought to be a risky endeavor, Yamada said.
In the beginning, Ecmis sold jewelry at fairs and engaged in redesign and refurbishing only as a sideline. One risk that comes with the turf is holding onto often expensive jewelry belonging to other people for a certain period of time.
"The hardest thing about the redesign business is that customers have to leave their jewelry at the company," said Yamada, noting some customers entrust his firm with multimillion yen items.
Then there are the horror stories. Yamada said he had heard from a firm engaged in the same business that one customer complained about having a piece worth some ¥3 million switched when it came time to retrieve the redesigned item.
"Considering such risks, few people want to make jewelry redesign their main business," Yamada said.
But he was lured by the demand.
Having been a seller of not only jewelry but also health-related products and bedclothes before starting Ecmis, Yamada had encountered people who wanted to resurrect jewelry that had been in storage.
"Jewelry owners didn't know what to do. I don't think many people in the industry started to realize that."
There were also other factors that led him to start the refurbishing business.
It was soon after his company was established that Yamada faced a severe cash shortage after a client went bankrupt.
Yamada, who had mainly been a salesman, had little knowledge about finances at the time and subsequently lost ¥8 million.
But he received a lot of help from many people and managed to overcome the difficulty.
On New Year's Day 1990, Yamada thought his company was on the verge of bankruptcy, but he soldiered on with the support of others.
"I felt I should do something to help people" who had old jewelry they wanted to wear but were unable to, he said.
Considering some of the risks, Yamada was advised by people around him not to go into the redesign field.
"I was told 'Redesign? Are you crazy? You'd better not do it because you will fail,' " Yamada said. "But I thought if no one was doing it, it would be interesting to make a business model."
He admitted it was tough in the beginning because he knew nothing about the redesign business, and even lacked the requisite technical skills.
At his company, it costs about ¥150,000 to redesign a ring on average and takes about a month. To reduce the risks when holding on to someone's jewelry, Yamada made the redesign process as transparent as possible.
The company records details of customers' jewelry on order receipts, including size and condition.
Customers also receive a detailed explanation of the redesign process.
Before any work is done, the company shows sample silver patterns and draws a picture of the new look to make sure the customers are satisfied.
The company issues a quality certificate at customers' requests that can ease their concerns if something happens to their jewelry.
Because Ecmis organizes jewelry redesign fairs for other shops, which have their own customers, those customers feel safe to entrust their jewelry at the fairs, Yamada said.
With his focus on various jewelry fairs and sales skills, his business grew.
Yamada said it has been just this past decade that the business really started going smoothly.
But because jewelry is a luxury, current economic conditions can have a big impact.
Yamada said business has been tough since the fall of Lehman Brothers and has only begun picking up in the past few months.
As for his management principles, Yamada said he values meeting and interacting with people. Having the will to study, improve and grow is also important for him, he added.
"In that sense, I would like to make my company bigger and have more chances to work with more people," said Yamada, who stresses the potential of his industry.
The jewelry redesign market is currently worth about ¥150 billion, but it is believed to have about ¥20 trillion in potential, because so much jewelry sits unused in boxes.
Yamada has been appointed chairman of Japan Re-Jewelry Council, which was established in July to promote his industry.
"It is a market we can expand. I think the industry is still in its infancy," he said.
Jewelry requires maintenance, although that side of the industry is little recognized, according to Yamada.
For example, people's fingers change over time, and rings sometimes no longer fit. Through a redesign, they can both fit again and sport a new fashionable look, he said.
"By energizing the second jewelry market, it will revitalize the entire industry," said Yamada, who aims to get his company listed within seven years.
And Yamada stressed how customers are delighted when their precious jewelry gets revamped and sparkles like new.
"(Refurbishing jewelry) is like a business of delight," Yamada said.
This series has been prepared in collaboration with Enjin Co., which produces and operates a video Web site, kenja.tv, specializing in profiles of up-and-coming Japanese entrepreneurs.
---