Learn what it takes to have a successful future from these company leaders in our new series.
Finding a profitable niche to help others succeed
By YVONNE CHANG
Contributing writer
Becoming an architect in Japan is as difficult as becoming a doctor or a lawyer, if not more so, and Sogo Shikaku is one of the two major prep schools that specializes in helping students succeed on the formidable national architect exam, where less than 10 percent of the test takers manage to pass.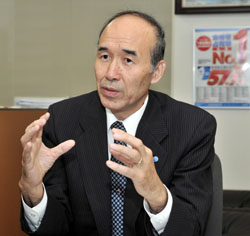 "After passing the exam, our students come back and tell us that they had never studied this hard in their lives, that it was much more than what they went through for the college exams," said Takashi Kishi, president of Sogo Shikaku Co.
The company started almost 30 years ago in Nagoya and boasts that a high percentage of their students pass the first-class architect exam. Of the 4144 people who passed the final exam in fiscal 2008, 2391, or 57.7 percent, studied at Sogo Shikaku, according to Kishi.
There are several ways to become eligible to take the qualification exam, but the most typical and probably the fastest way is to go through four years of college studies as an architecture major, and work for at least two years in a related business, such as a construction company or an architectural firm.
Still, it could easily take two to three years to pass the exam. Hence, self-discipline is extremely important for potential test takers of the architect exam, as they need to work up good study habits while working full-time.
"The students need to study at least two, three hours a day outside school hours, or a total of 800 to 1,000 hours, for the exam," Kishi said. "So we teach the students how to establish effective study habits as well."
Kishi believes the emphasis on live lectures and interaction with students, compared to other similar prep schools that rely on video lectures, is one of the keys to their success. After passing the preliminary subject test in July, students start preparing for the designing and drawing exam that takes place in October. During the 10 weeks, the teachers work particularly closely with the students, sometimes spending over 10 hours a day with them.
"We don't allow the students to go home unless they fully understand the day's lecture, or else they won't be able to do their homework," Kishi said.
Students start skipping classes, Kishi explained, when they can't complete the homework and that leads to less students being able to pass the exam. "We try to maintain a participation rate of 80 percent," Kishi said.
This year, the school staff was particularly busy preparing the students for the new and more difficult licensing exam, which puts more emphasis on practical application and covers more subject areas.
The exam was revised in response to a 2005 scandal where quake-resistance data of buildings was falsified by a certified Japanese architect, leaving scores of apartments and hotels vulnerable to even mild earthquakes in a quake-prone country, and shaking public confidence in licensed architects.
While the scandal painted a negative image of the construction industry in general, Kishi saw a positive light in this incident.
"It was a good opportunity for people to realize the importance of this license, with demand increasing for high-quality architects in the industry," he said.
Kishi entered the schooling business when he was 27 years old, and the company he started two years later initially offered courses on various construction-related licenses and qualifications. But the school eventually concentrated on offering courses for the architect exam because of the heavy competition in schools and correspondence courses for other licenses.
But a more important reason was because the architect license, unlike other licenses that Kishi had offered courses for, was one license that was mandatory for certain businesses, as the law requires firms to have employees with the architect license when bidding for public works.
"Since this license was part of government policy, I thought this area of business had growth potential," Kishi said.
People who seek to become certified architects have also invested more time and money than those for other licenses, Kishi explained, adding to the motivation of students who decide to enter prep schools like Sogo Shikaku. And the companies that the students work for are also very supportive, as it could directly affect their business.
"So the seriousness of the students that come to study at places like ours is quite different," Kishi said.
Following his success in the Nagoya region, Kishi opened a school in Tokyo and surrounding areas. "Business in Tokyo went really smoothly," Kishi said.
In fact, despite the sluggish economy and a steady decline in public works, Sogo Shikaku has been marking a steady increase in revenue for the past eight years, hitting the ¥10 billion mark in terms of sales in fiscal 2008, according to figures released by the company.
But the company was not immune to the global economic meltdown following the Lehman Brothers bankruptcy, with sales dropping 10 percent in the fall of 2008 from the previous year.
"A mild economic downturn is OK as it creates more time for people to challenge the exam, but when people start to leave the industry because of shrinking business, then that really affects our business," Kishi said.
But Kishi remains optimistic.
"In fact, our business in the rural areas is declining because of less public works and depopulation, but when there are less jobs in the rural areas, people move to the city, so our business in the urban areas hasn't suffered," he said.
"My dictionary doesn't carry the word, 'minus,' " he added.
And true to his word, Kishi swiftly managed to reverse the downward trend, marking a sales increase by the next quarter by setting higher sales targets for his staff and forcing them to change the old ways of doing things to achieve the targets.
"I tell my staff to forget the past," Kishi said. "They hate it when I say this because people tend to cling to success they experienced in the past. But you have to continue to aim for the better to succeed."
Although a business like his may appear to be focused only on the domestic industry, Kishi makes sure to keep an eye on global trends in the world of architecture and architectural education.
Earlier this year, Sogo Shikaku cosponsored the International Architectural Education Summit, which brought together architects, educators and scholars from around the world to address contentions between local practices and international standards for a globalized architectural profession.
The conference, the first of its kind, shed light on the difficulty of reconciling the differences in the immediate future. "For example, it's easier to come up with a universal method for building cars, but it becomes extremely difficult to agree on a universal way of building something as simple as a house, given the cultural and environmental differences in each country," Kishi said.
While a global architect license is unlikely to happen anytime soon, Kishi finds this sort of discussion an interesting trend that will likely affect his business one day.
And as someone involved in architect exams for the last 30 years, "I think we have a lot to suggest to the government if and when such discussions pick up in Japan," Kishi said.
This series has been prepared in collaboration with Enjin Co., which produces and operates a video Web site, kenja.tv, specializing in profiles of up and coming Japanese entrepreneurs.
---