Learn what it takes to have a successful future from these company leaders in our new series.
President of precision manufacturer finds seeds of success in failure
President Takuo Toda of Castem Group, which specializes in lost wax precision casting and metal injection molding, is rarely at his head office in Hiroshima. He is constantly traveling to and from branch offices, overseas plants and meetings with clients.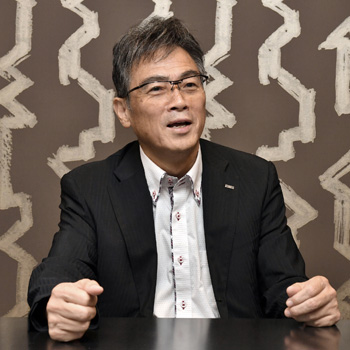 When he is not away on a business trip, however, he tries to spend as much time with the development team, consisting of about 10 top engineers, as possible.
"The development team should be directly below the president of the company, especially in manufacturing," Toda said. "Layers of managerial staff between the team and the president will only prevent the team from maximizing speed and creativity."
The workers are very energetic and proactive because it is in their corporate culture and atmosphere that ideas and efforts are valued, and nobody blames others for trying and failing.
Failures are the seeds of success, he said. However, Toda points out that many Japanese manufacturers today pay no attention to the seeds of ideas or trials and errors that may flourish in 20 years. Often presidents are only concerned about short-term profits and whether or not they can report a surplus at the next shareholders meeting, as they will only be there for a few years.
"Failures become unacceptable if you only pursue short-term profits. Employees become afraid of making mistakes so they do not dare to try things that may be profitable in the future," Toda said.
Toda's way of looking ahead and thinking long-term is what has helped his company grow quickly and become successful. In the 30 years since he has taken over the company from his father, they have added five overseas subsidiaries and five branch offices in Japan.
"Many workers quit when I took over the business. The first thing I did was clean out the empty factory. I had to start from scratch," he said. What he did to put the company back on track and differentiate it from competitors was to accept orders that everyone else rejected due to the level of precision required.
"Orders we get are often very difficult; we make 10 pieces of the same thing out of which only one is successful. That's why all other casting plants reject the orders," Toda said.
His plant may start creating one successful product and nine defective ones, but they do not give up. "The interesting part is, one out of 10 eventually becomes three out of 10, even seven out of 10 as time goes on, even though we are making the same thing using the same procedures and machines," he said. "It is our engineers' fine-tuning and dexterity that makes it possible to increase the success rate."
How does Toda decide how much to charge clients for work that everyone else rejects?
"We only charge 30 percent more than what we would charge if the success rate was at a normal level. That means we end up losing money for a while until the number of defective products start to decrease, but we can make a profit in the long run," he explained.
The most important thing is that the client is satisfied both with the quality and the price. "If the client is happy, they will stick with us for a long time. That means we have time to recoup our initial investment," he added.
His way of doing business has allowed Castem's technology to be used in many different fields, from parts for industrial products to soles for tap dance shoes and baseball spikes. Anti-seismic fixtures for old, traditional Japanese-style houses are a new area Toda has been exploring.
It is often difficult to carry out major construction and to make structural changes to old buildings. "So it will have to be something that is installed outside the structure on the corners of the house or on door frames," he said.
Owners want to maintain the aesthetic value of their buildings, so it requires excellence, both in function and design. He thinks that there is a market for this kind of product in the field of traditional crafts.
"Metalwork for traditional crafts is unique. Orders come in very small lots and they require high levels of intricacy and sophistication. A great deal of communication is needed to turn the client's concept into a piece," Toda said.
This is why Castem is planning on opening a factory in Kyoto, a mecca for traditional crafts. "It will make it possible for us to discuss with our clients and create samples or make adjustments then and there," he said.
Trying what everyone else refuses is the way Castem continues to grow as an international company.
This series has been prepared in collaboration with Enjin Co., which produces and operates a video website, specializing in profiles of up-and-coming Japanese entrepreneurs.
This series has been prepared in collaboration with Enjin Co., which produces and operates a video website, kenja.tv, specializing in profiles of up-and-coming Japanese entrepreneurs.
---